Maotoam 13-in-1 Hub and Stand Quick Review
Summary
With its exceptional blend of style, toughness, and functionality, the Maotaom 13-in-1 Hub and Stand makes good on its promise of turning your laptop into a full-blown workstation. It may be pricey, but it certainly earns its keep.
Pros
Offers a wide range of useful ports
Stylish and sturdy
Highly adjustable yet stable
Quadruple display and fast-charging are great features to have
Cons
Pretty expensive compared to other stands
Looking for a stand that does more than just prop up your laptop? Sure there are tons of laptop stands out there that look cool and are built to last, but what if you could have one that not only elevates your device but also turns it into a full-on workstation. That's what the Maotoam 13-in-1 Hub and Stand is all about.
It's a fully adjustable laptop stand that includes a variety of different ports ranging from USB and Thunderbolt slots to HDMI ports that support multiple displays. In this Maotoam 13-in-1 Hub and Stand review, we're taking a closer look at what the device brings to the table and whether or not it's the dream stand it claims to be.
Can't stick around for the entire review? Just click any of the links below and we'll take your right to that section.
Overview
Maotoam comes from the minds of a China-based tech team that has over a decade's worth of experience under their belt. This laptop stand sets itself apart from the competition by allowing you to place your machine in the optimal position while conveniently offering you a range of different ports, such as card readers, display ports, USB slots, and even an Ethernet connection.
Ports aside, the Maotoam also happens to be a stylish piece of equipment that boasts a durable and steady frame that'll keep your laptop both safe and secure every time you use it. From its initial Kickstarter goal of $5,000, Maotoam has already amassed almost $200,000 worth of funding from nearly 1,500 backers as of this writing, which goes to show just how much interest the gadget is stirring.
Features
13-in-1
As its name suggests, Maotoam features 13 useful ports for all kinds of uses, which include a couple of memory card readers, HDMI and DisplayPort slots, a variety of USB ports, an Ethernet connection, and a 3.5mm audio jack.
Quadruple Display
Given how many display ports Maotoam has to offer, you can hook your laptop up to three extra displays, giving you a lot more real estate to work with which is extra handy when you need to look at a lot of information at once.
4K@60Hz
This laptop stand doesn't compromise when it comes to visual quality, as it supports up to 4K resolution at a 60Hz refresh rate.
Fast Charging and High USB Speeds
Thanks to its impressive 100W of total power, Maotoam allows for powerful 18W fast charging so you'll be juicing up your gadgets in a hurry. It's also compatible with USB 3.2 Gen2 and USB4, as well as Thunderbolt 3 and 4, so can enjoy lightning-quick transfer speeds of up to 10Gbps.
Durable and Adjustable
The ports may be Maotoam's highlight feature but its stylish and sturdy aluminium frame ensures that your laptop remains safe and steady for years of continuous use. Its grate-like design also allows for proper airflow so your laptop doesn't trap heat and the whole thing is highly adjustable in order for you to get just the right working angle.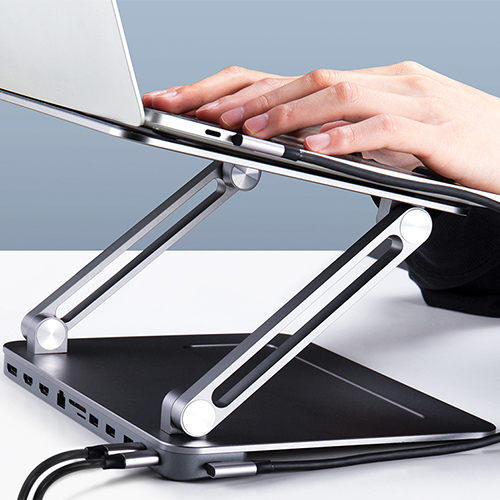 Specs
| | |
| --- | --- |
| Category | Interface |
| Upstream Interface | USB-C Host |
| Upstream Power Delivery | PD 100W |
| Downstream Data Transfer/ Power Delivery | USB-C 3.2 Ports |
| Downstream Data Transfer | 1 x USB-A 3.2 Port |
| Downstream Data Transfer | 2 x USB-A 3.2 Ports |
| Downstream Data Transfer | SD & TF Card Slot |
| Downstream Data Transfer | RJ45 Gigabit Ethernet Port |
| Display | 2x HDMI Ports, 1 x DisplayPort |
| Audio | 3.5mm Audio Jack |
Aesthetic
Maotoam offers up a sleek, silvery design that's exceedingly minimalistic and rather reminiscent of a lot of Apple's products, making it the perfect companion for Macbooks and other no-nonsense style laptops.
Its surface features vents that allow for better air circulation which helps keep your machine cool at all times and a couple of hooks at the bottom ensure that your laptop is secured no matter the angle. The ports are all lined up towards the back part of the stand's base, making it easy to connect your device to any peripheral. When you're done, the stand collapses onto itself for easy storage.
Final Thoughts
A large number of people who do most of their work on a laptop enjoy a quality stand to go with it and the Maotoam is about as great as they come. While it does everything you'd expect out of a first-rate stand, like being highly adjustable and remarkably durable, it also goes above and beyond by providing you with 13 ports to work with, all of which can be extremely useful.
It comes with a pretty hefty price tag, but if you can spare the extra coin then the Maotoam 13-in-1 Hub and Stand is definitely worth every penny.