While synonymous with the famed operating system and their impressive array of tablets and laptops, the name Microsoft isn't exactly the first thing to come to mind as far as keyboards are concerned. But that's not to say that they don't have an impressive roster of those as well.
Microsoft Surface Keyboard Review
Design & Build -

7/10

Features -

7.2/10

Battery Life -

8/10

Ergonomics -

7.7/10

Typing Quality -

7.5/10
Summary
Despite its lack of a backlight and being devoid of customization options, the Microsoft Surface Keyboard still manages to be a stellar peripheral thanks to its excellent switches, smart design, and sturdy build. Owners of the Windows tablet are sure to appreciate the superior typing experience, though its large size makes it troublesome to carry around.
Pros
Sleek minimalist design
Switches feel great
Compatible with pretty much any Bluetooth device
Excellent build quality
Cons
No backlight
Lack of software means zero customization
Still uses disposable batteries
A tad pricey
In this Microsoft Surface Keyboard review, we're trying out the tech giant's premium typing peripheral designed specifically with their beloved tablet in mind, though its compatibility isn't limited to just those line of devices. But is its comfy keys, sleek looks, and quality build enough to justify its fairly steep price tag? That's what we're here to find out.
Don't have the time to get through the entire review? Just click any of the links below and we'll take your right to that section.
What is the Microsoft Surface Keyboard?
As its name suggests, the Microsoft Surface Keyboard was developed mainly for the Surface and Surface Pro line of tablets, giving users a more laptop-like experience and a wider range of keys. While Microsoft's Type Covers work just fine and double as a nifty layer of protection for your tablet, they just don't offer the same satisfying tactile feedback you'd get out of typing with a laptop keyboard.
Ironically, the Surface Keyboard looks a lot like something you'd expect from Apple with its low-profile design dressed in all grey. It's a handsome looking fellow that won't take too much space on account of its slim form and compacted key layout. It isn't just easy on the eyes either, as this keyboard performs just as well as it looks. Don't expect it to come cheap, however, as it sits at the same price as the impressive Apple Magic Keyboard.
Features
Switches
The Surface Keyboard utilizes low-profile scissor switches that feature a really short actuation distance for more responsive keystrokes. They also require a slightly higher actuation force to press than normal switches of this variety which minimizes the chances of accidental key presses.
Connection
It's a Bluetooth only keyboard that does its job by connecting directly to Bluetooth-capable devices. There is no option to connect it to a machine via USB.
Battery Life
This keyboard requires 2 triple A batteries to function, which is unfortunate. Microsoft has at least gone through the trouble of including a set of batteries in the box which, according to them, should last up to a year of continuous use.
Accessories
Don't expect any extra with this peripheral, as the only things that come in the box are the keyboard itself, a couple of batteries, and the manual.
Media Controls
Due to its compact design, the Surface Keyboard doesn't come with dedicated media controls but it does have hotkeys that can be accessed through the function buttons.
Backlight/RGB
Since it isn't a gaming keyboard, the peripheral's lack of RGB is expected. Its lack of a backlight, however, is an unfortunate design flaw and one that makes using this keyboard quite difficult in poorly-lit environments.
Software
You won't be getting any companion software with the Surface Keyboard so its customization options are pretty much zero.
Specs
| | |
| --- | --- |
| Dimensions | 420.90 x 112.60 x 19.30 mm |
| Weight | 419.30 g (with batteries) |
| Switches | Scissor switches |
| Switch Lifespan | 5 million keystrokes |
| Media Controls | Hotkeys |
| Connection Type | Bluetooth |
| Battery Life | Up to 12 months |
| Backlight/RGB Lighting | None |
| Number of Keys | 109 Keys |
| Software | None |
| Accessories | None |

Aesthetics
The Microsoft Surface Keyboard sports a symmetrical rectangular shape and a slim form factor, bearing a noticeable resemblance to the Apple Magic Keyboard except that it's bigger. It's muted grey all over, with the keys being of a darker shade and the characters are painted in bright white.
Microsoft was very economical with space when drawing up this keyboard, using just enough real estate to fit in all the keys with nearly zero excess. The keys are all tightly packed together but leave the right amount of distance which makes typing comfortable.
The full-sized nature of the peripheral is questionable, though, since it makes it more difficult to carry around despite being designed particularly for Surface tablets. Overall, the Surface Keyboard exudes an air of elegance with its simplicity and is sure to make your Surface or any other device look that much more professional.
What's it like to use?
Setting up the Surface Keyboard is a walk in the park, requiring no more than just pairing the peripheral with your device of choice via Bluetooth. It works best with a Windows device but it also supports macOS, Linux, Android, iOS, and iPadOS machines, though with limited compatibility.
Since it doesn't include any companion software, you won't have to worry about extra downloads but you also won't be able to customize any aspect of it which is a bit of a bummer. Using the keyboard feels amazing thanks to the fantastic scissor switches that offer remarkably responsive keystrokes with a pleasant amount of tactile feedback.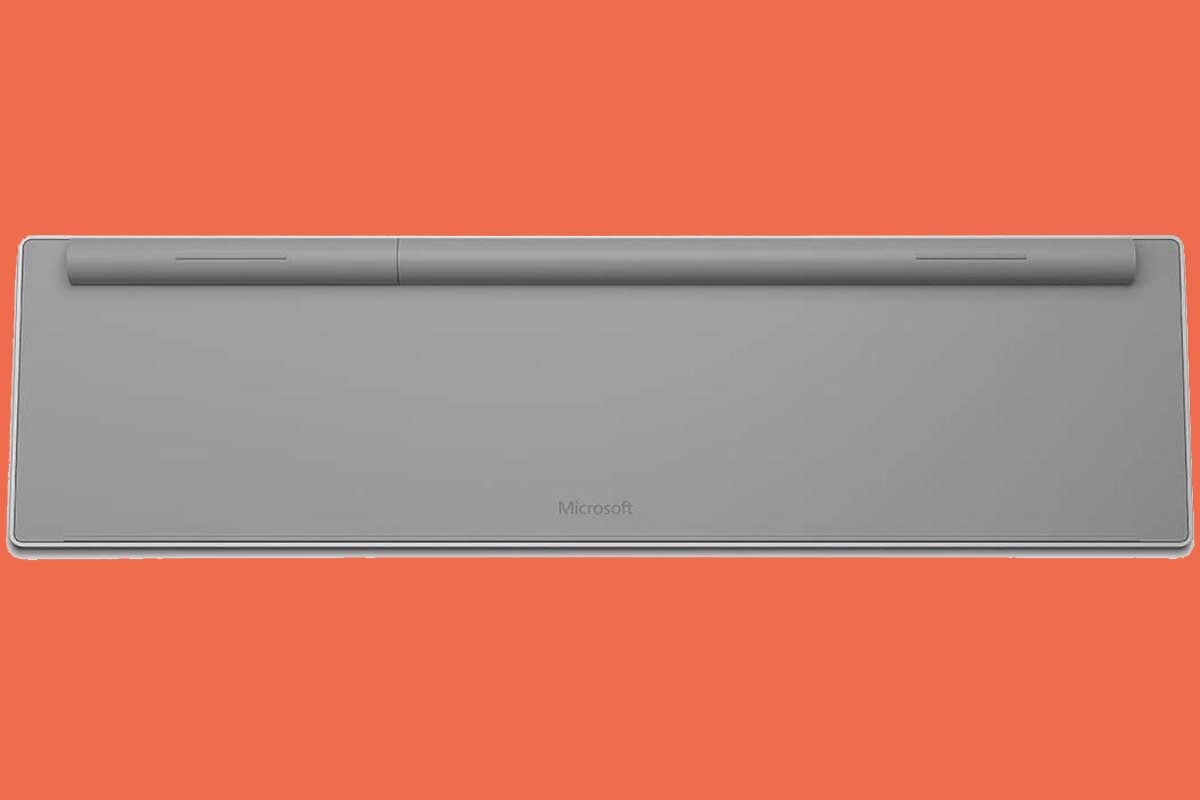 The increased actuation force required may take a bit of getting used to, but it's better in the grand scheme of things since it can help prevent accidental key presses. It's also extremely quiet, so you won't have to worry about bothering the people around you with your furious typing. It's built to last too on account of its aluminium face panel and reinforced plastic posterior, so you shouldn't expect it to break down anytime soon.
A major misstep in the Surface Keyboard's design is its lack of a backlight, meaning you'll have to invest in a decent desk lamp or keep the lights on if you plan on doing some browsing or working at night. There's also the matter of requiring batteries to work which most of its rivals don't, though you'll only have to swap them out once a year which shouldn't be too much of a hassle.
Final Thoughts
While the Microsoft Surface Keyboard may have been designed to go along with the brand's line of tablets, its impressive switch performance and beautiful low-profile design make it an attractive choice for just about any device that offers a Bluetooth connection, though it's a little on the large side which makes it tough to lug around. If you're after portability, you might want to go with the excellent Vinpok Taptek Keyboard.
Microsoft Surface Keyboard
Compatible with Windows 10 / 8. 1 / 8, Mac OS 10.10.5 / 10.11.1 / 10.11.4,...
Sleek and simple design
Optimized feedback and return force.Multimedia key life: 500,000 actuations...
Host must support Bluetooth 4.0 or higher. Note : Refer the PDF attached...
It does have a few glaring issues, like its relatively high price tag and the complete lack of customization, not to mention the absence of a backlight which is a crying shame. Faults aside, the Microsoft Surface Keyboard is a superb choice for Surface owners looking for a better typing experience, and it's also a great option for professionals and general users who are in the market for a solid full-sized wireless keyboard.
Last update on 2021-12-15 / Affiliate links / Images from Amazon Product Advertising API