If you love going outdoors, are into sports, or if your profession requires you to keep track of the weather, then here's a neat little device for you. The MeteoTracker is self-proclaimed as the "first mini weather station for geo-tagged measurements on the move." Find out more about this project with our MeteoTracker review.
In a rush? Click on any of the links below to skip to that section:
Metotracker Review
Summary
Make your every trip a weather exploration with the MeteoTracker. It can measure temperature pressure/altitude, and humidity – all in a form of a small and portable device. Whether you are on the road, off the road, or in the air, the MeteoTracker can help you keep check of the weather.
Pros
Very compact and portable

Accurate and reliable

Easy to use
Cons
Not ideal as a fixed station
Overview
Before the MeteoTracker, air temperature measuring devices used sensors within a special solar shelter or screen to ensure accurate data gathered. For years, these devices were difficult to take hold of due to their high costs. They were also large and heavy, making them unsuited for observing the weather while on the go. While there are alternatives, like car sensors, the results were very inaccurate.
All these issues are what the MeteoTracker was designed to solve. It is accurate, lightweight, compact, and occupies very little space, all while being affordable. Offered at a starting price of around $100 on Indiegogo, the MeteoTracker is one of the cheapest reliable weather stations today. The Vantage Vue, and the Vantage Pro2 are considerably more expensive.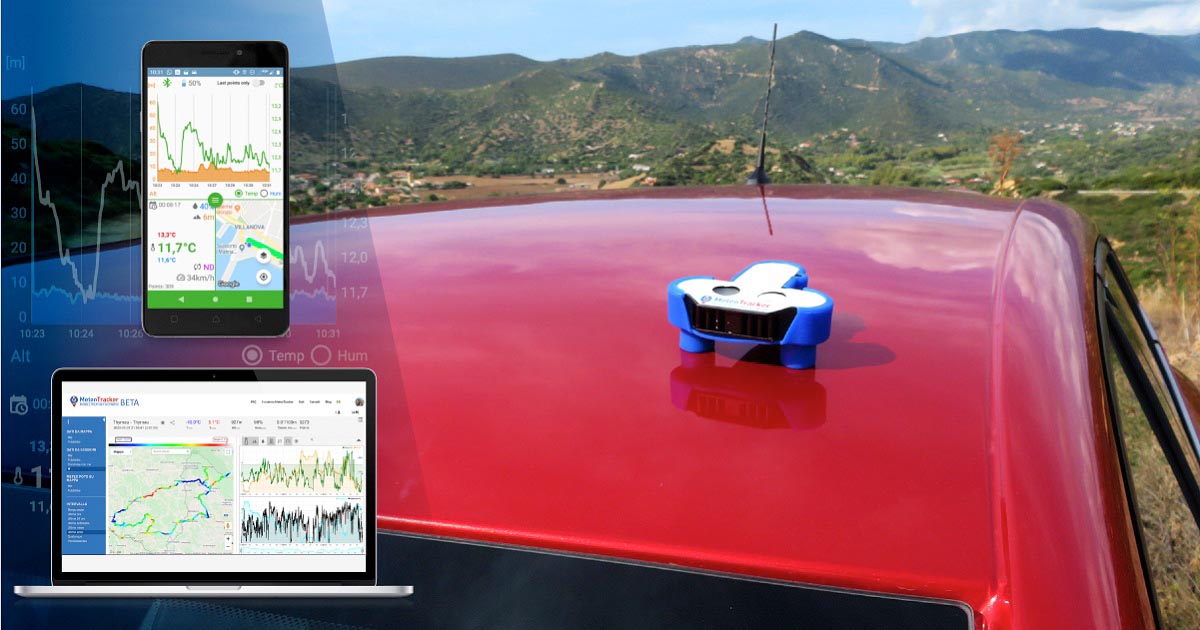 Buy Meteotracker on INDIEGOGO Now!
Support this project to save money and support innovation from the world's best inventors!
Features
Fast Measurement Time
Unlike other weather stations, the MeteoTracker does not have shielding structures. This exposes the sensors to enough ventilation, which results in a very high measuring speed. If you are on the move, this is one of the most important features you should look out for since it ensures the correct measurement of sharp thermal variations.
Accuracy
One of the best features of MeteoTracker is its accuracy. Using a patented Radiation Error Correction System (RECS), its temperature measurements are spot on even at a very low speed and under strong solar radiation.
However, the MeteoTracker is ideal for instances that include motion. This is because the device's system cannot fully function when stationary. So if you are considering using it at home, look elsewhere.
Web Platform and Mobile Application
All the data gathered by the MeteoTracker will be sent and presented in real-time on a web platform and on your phone through a mobile application. This makes it easier for you to access all the information you need and analyze them in-depth through graphs, maps, and numeric formats.
The app also offers "Meteophoto", which allows you to capture photos showing the details of the weather at that exact moment. It has a sharing menu as well, allowing you to share such photos and other information with your peers, followers, or friends on any platform.
Specs
Measured Data

Temperature
Relative Humidity
Pressure (Altitude)
Dew-point
Altitude vs. sea level
Vertical gradient indicator
Radiation intensity indicator
Speed
Number of weather points collected
Session start and arrival location, time, date, and duration

Dimensions
35 mm x 75 mm x 75 mm
Weight
40 g
Accuracy

Temperature +/- 0.5°C
Humidity +/- 3%
Pressure Relative +/- Pa | Pressure absolute +/- 50 Pa
Altitude +/- 10 m
Patented system for accurate temperature measurement (+/- 0.5°C)

Response Time (Temperature Measurement)
Settling time of 30 seconds given an air temperature variation from +5°C (41°F) to -5°C (23°F) at a speed of 5 m/s
Connectivity 
BLE connectivity
Battery 
300+ hours of battery life, rechargeable Lithium polymer battery, 3 hours recharge time
Fastening System
Magnetic
Operating Range
-40°C (-40°F) to +125°C (257°F)
MeteoTracker is equipped with a rechargeable lithium-ion polymer battery. While it doesn't rely on solar power like the Vantage Vue or Vantage Pro, it can last up to an impressive 300 hours. So it can accompany you through many trips before needing a recharge. You can then charge the MeteoTracker with a simple USB Type-C cable when needed. The 3-hour waiting time until full charge is a bit long though.
At -40°C to +125°C, the MeteoTracker has a wider operating temperature than the Vantage Pro2, which is capable of outdoor temperature readings only from -40°C to +65°C.
Aesthetics
The most notable feature of the MeteoTracker in terms of design is its size. It is incredibly small, almost similar to your computer's mouse. This makes it the most portable yet extremely accurate weather station in the market. To make it even better, it has 3 magnets at the base. Thus, allowing you to easily attach it to your vehicle and ensuring it won't fly off even when you're driving at high speeds.
The Verdict
With its size, versatility, and accuracy, the MeteoTracker is the best device for anyone in need to keep up with the atmospheric conditions while traveling. It is easy to use with all the information readily accessible through a mobile application and web platform. However, if you are looking for a weather station to keep at home, this is not the instrument for you.
Buy Meteotracker on INDIEGOGO Now!
Support this project to save money and support innovation from the world's best inventors!
Last update on 2021-12-15 / Affiliate links / Images from Amazon Product Advertising API