Summary
If you happen to own a compatible smartphone and are in the market for an inexpensive laptop, then the NexDock 2 should definitely be on your radar. It centralizes all your information into one device and lets you perform smartphone tasks with a great keyboard and a bigger display. Sure, app optimization could use some work, but the NexDock 2 truly lets you maximize what your smartphone has to offer.
Pros
"Desktop mode" works surprisingly well
Works with Raspberry Pis and mini PCs
Noticeably improved design over its predecessor
Cons
A lot of apps remain unoptimized for "desktop mode"
Limited smartphone compatibility
After blowing your hard-earned cash on a brand spanking new high-end smartphone, it kind of sucks that you're going to have to save up all over again just to afford a halfway decent laptop. Or do you? If you've been dreaming of a way to use your smartphone as a laptop, then look no further. NexDock 2 is a specialized dock that literally does just that.
It puts all that memory and computing power you paid top dollar for to good use by hooking it up to a screen, keyboard, and trackpad, allowing you to use your smartphone like you would a standard laptop, minus the steep price tag. But is a "desktop mode" based operating system really good enough to even remotely compare with the likes of Windows and Mac? We're taking the plunge so you don't have to, in this NexDock 2 review.
Can't spare the time to read through the whole review? Just click any of the links below and we'll take you right to that section:
Overview
The tech specs of modern-day flagship smartphones are nothing to sneeze at. In fact, in terms of computing power, some of them are even comparable to laptops and desktops from the early 2010s. With the NexDock 2, you'll be able to harness all that power by channelling it into what is essentially a laptop without a CPU, memory, or operating system.
It'll provide you with a full-sized keyboard, trackpad, and a 13-inch screen, but all of the heavy lifting will be coming straight from your smartphone. The NexDock 2 serves as a successor to the first NexDock from a few years back, offering significant upgrades in design and software compatibility over the original.
See also: Cubbit – A Cloud Storage Revolution!
Features
Wider Keyboard & Slimmer Bezels
Compared to its predecessor, the NexDock 2 features an edge-to-edge keyboard for a more comfortable typing experience. Its bezels are also thinner, giving the improved 13.3-inch 1080p IPS screen a lot more real estate and a sleeker design.
Share Smartphone Connectivity
Since your smartphone already has perfectly functional data, wireless, and Bluetooth connections, the NexDock 2 makes full use of them instead of requiring connections of its own.
Huawei & Samsung Compatibility
The dock is compatible with the more recent Samsung Galaxy S and Note models, as well as the newer Huawei Mate and P line of smartphones. The Samsung devices utilize their DeX feature to accommodate "desktop mode", while Huawei has the EMUI Easy Projection.
Raspberry Pi Enabled
Smartphones aside, the NexDock 2 works perfectly with Raspberry Pis and is even compatible with all sorts of mini PCs, allowing you to put together a solid laptop for a lot less.
Lengthy Battery Life
The NexDock 2 includes a generous 6,800 mAh battery for those extended laptop sessions and to charge your smartphone in a pinch.
Secondary Monitor
The dock has an HDMI-in port that allows you to use its screen as a display for any HDMI-capable device, including video game consoles, PCs, laptops, and TV sticks.
Specs
| | |
| --- | --- |
| Dimensions | 317 x 215 x 15.9 mm |
| Weight | 1420 g |
| Screen | 13.3" IPS LCD 1920×1080 (1080P) 16:9 aspect ratio |
| Battery | 6,800 mAh |
| Audio | 4 x 1W speakers |
| Keyboard | Edge to edge full-sized QWERTY |
| Trackpad | Multi-touch |
| Input Ports | USB-C input for smartphones, HDMI input |
| Other Ports | USB-C PD Charging Port, USB-C 3.0, USB-A 3.0, 3.5mm audio jack, Micro SD Card Reader |
Aesthetics
Looks-wise, the NexDock 2 bears a striking likeness to an Apple Macbook, sporting a similar low-profile design and the trademark silver finish. The keyboard keys are a deep black colour, though the trackpad is also black which is a slight departure from the Macbook's grey.
Widing the keyboard and slimming down the bezels really paid off in NexDock's second iteration, giving it a far cleaner look and a more comfortable typing feel. At glance, it's virtually indistinguishable from a contemporary laptop that you have your phone connected to for a quick charge.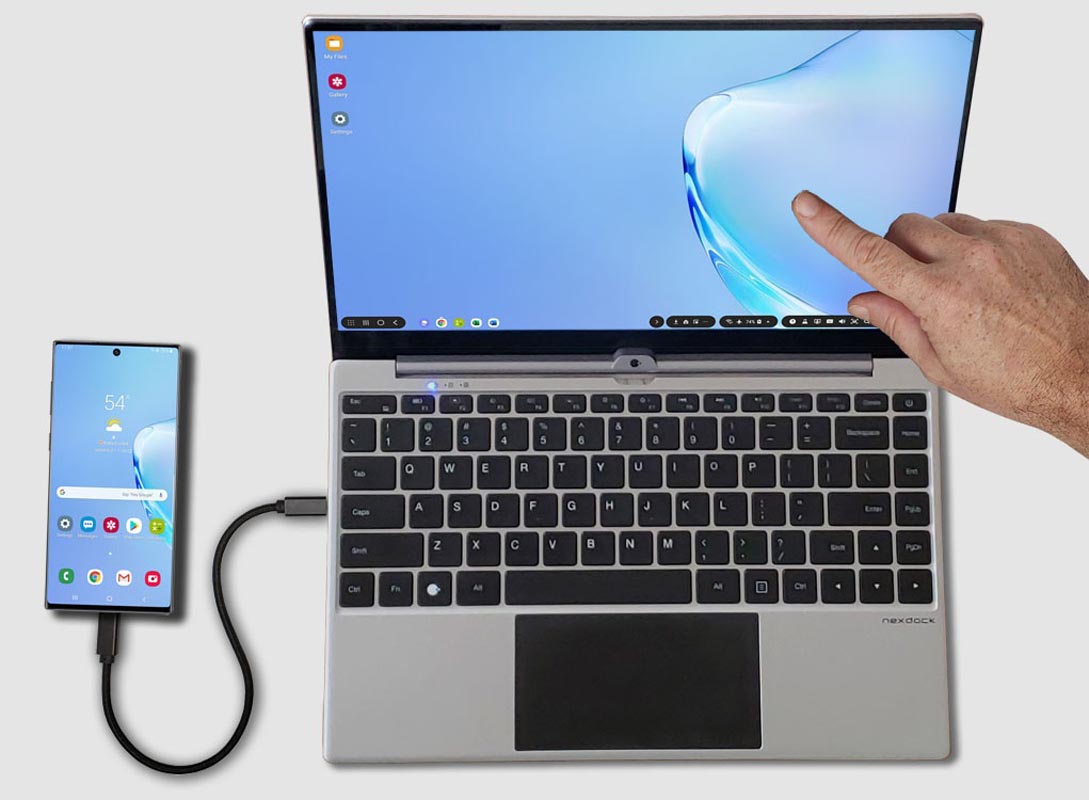 What's it like to use?
Setting up the NexDock 2 works in pretty much the same way as hooking up your Samsung or Huawei phone to a monitor or television. You connect it to the dock via a USB Type-C cable and then enable DeX on your Samsung or EMUI Desktop Mode on a Huawei.
This will display a special version of your smartphone's OS that you'll notice looks a lot like Windows, boasting a unique home screen and a proper landscape view. Whatever your phone can do the NexDock 2 can do better, thanks to its full-sized keyboard and a larger screen.
Unfortunately, it's limited by compatibility, with several well-known apps not being properly optimized for the desktop modes. On the plus side, you'll never again have to transfer data between your smartphone and laptop since they are one and the same.
Final Thoughts
Being able to use your smartphone as a laptop is as useful as it sounds since it gives you the ability to keep all your important information in one place. No more scrambling to find a photo on your phone just to send it over to your notebook. Whether it's a phone number, text message, or a vital document, all of it can be found in one place.
You won't have to splurge on a pricey machine either since a NexDock 2 is around half the price of a serviceable laptop. Perhaps the best part of the dock is the larger screen and full-sized keyboard which, if you've got stubby fingers like me, feels like a godsend. Typing out messages and emails never felt better.
Unfortunately, there are still quite a few apps that remain unoptimized with the "desktop mode", but if you can live with that and own one of the smartphones that are compatible with the NexDock 2, then you'll definitely want one for yourself.