Editor's note: TurboHub is under strong allegations of scamming their customers.  Please read here for more information.
With a lot of today's laptops getting thinner and thinner, many of the most important ports are also disappearing.
So to ensure functionality and help you stay connected, you'd need to carry around a multiport adapter or dongle – which actually defeats the purpose of portability, right? Nevertheless, if you need a new hub to go with your computer setup, you might like the newest device currently making noise in the crowdfunding scene: the TurboHub. 
If you haven't heard of it yet, the TurboHub is an SSD & multiport adapter. Now you can do more with a hub than just keep your devices connected. Learn more about this cool new product with our TurboHub review. In a rush?
Click on any of the links below to skip to that section:
Overview
If you've been using and carrying a dongle and an external drive every time you need to use your computer, then the TurboHub is the perfect solution for you. It is equipped with an SSD to provide you additional storage and easy access to your files and data. It also offers 6 of the most important ports you will need. To make it even better, it's compatible with almost all of the devices today. 
Now, the TurboHub isn't the only multiport adapter that comes with additional storage. There's the Minix Neo Storage Plus and the HybridDrive. In terms of available SSD storage, TurboHub offers the most with 1 to 4TB. HybridDrive only offers 128GB, 512GB, or 1TB, and the Neo Storage Plus with 480GB to 960GB. 
The cost of TurboHub is around $119 to $339 at Indiegogo. Even with its massive offered storage, TurboHub is within the same price point as other multiport adapters with SSD, such as HybridDrive, which is offered at $112 to $279. At $119 for its 1TB SSD, it is even cheaper compared to the Minix Neo Storage Plus with only 480GB, which is available in Australia for AU$190 or around $145. 
However, since the TurboHub campaign is still running on Indiegogo, expect prices to go up once the crowdfunding is over.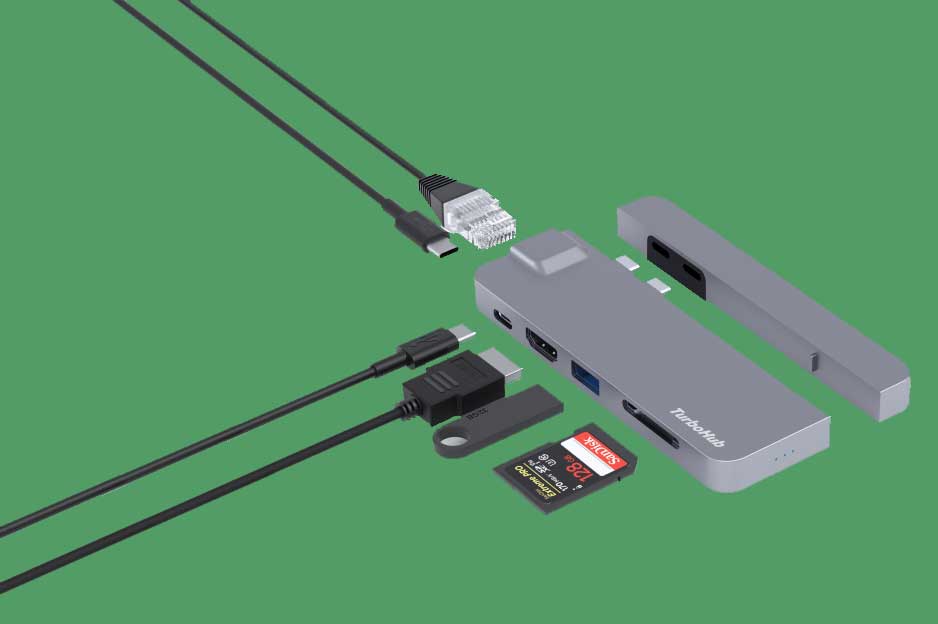 Features
SSD
TurboHub's built-in SSD is available in 1TB, 2TB, and 4TB capacities. Thus, making it perfect for storing all your files, presentations, video footage, and photos. You can even use it to backup your games and programs. 
This device promises a 950MB/s read and write speed, which makes it faster than most SSD storage. So you don't have to wait minutes or even hours when moving photos from your camera or transferring files from one computer to another. 
Multiport Adapter
There are 6 ports offers in the TurboHub, including the following:
HDMI 2.0:

You can use this port to connect another monitor to your laptop and enjoy a 4K video without delay. 

USB 3.1:

The TurboHub features a second-generation USB hub that allows high-speed data transfers. 

Thunderbolt 3:

This device features a 40GB/s high-speed USB port that you can use to connect your Apple products to any device. 

Type-C USB:

The TurboHub features a USB-C 3.1 Gen2 port with a 10GB/s speed, allowing you to use your laptop with any device. 

SD Card Read

er: Ensures up to 300MB/s data transfer. This makes it the perfect addition to your gear, especially if you're a traveler, blogger, photographer, or videographer. 

Ethernet Port:

Allows 1000Mb/s network speed. This provides you a more reliable connection than Wi-Fi, making it better for playing online games or streaming 4K videos. 
Wide Compatibility
You can use TurboHub with any operating system, including macOS, ChromeOS, and Windows. Thus, making it compatible with almost all modern devices today, including Android tablet, smartphone, PC, iPad, iMac, Macbook, and laptop. It even works with Xbox One and Playstation. This makes it a better choice than the Minix Neo Storage Plus, which will only work with macOS, iPad, and Windows 10. 
Specs
Here are the technical specifications of the TurboHub as seen on its campaign on Indiegogo.
Integrated Storage
NVMe PCI4 SSD
Ports

HDMI 2.0: 4K @ 60Hz HDR HDMI
USB 3.1: Gen2, 10GB/s
Type-C USB: USB-C 3.1 Gen2 Max 100W
SD Card Reader: UHS-II 300MB/s
Ethernet: with 1000Mbps network speed
Thunderbolt 3: 100W Power Deliver, 40GB/s

DC/DC Efficiency
Up to 96
Device Operating Temperature
Less than 118°F (48°C)
Dimensions
4.7 x 1.97 x 0.43 inches (121 x 55 x 11 mm)
Weight
2.04 oz (58g)
The TurboHub features almost all the ports you will need. It even has a Thunderbolt 3 port, which the HybridDrive and Minix lack. The only thing missing is an SD slot. But the most notable aspect of the TurboHub is its 950MB/s read and write system. This leaves the HybridDrive with a 450MB/s speed and the Neo Storage Plus with a 400MB/s speed both in the dust.
But is it the world's fastest SSD? Well, it's not. There are faster ones out there that promise a transfer speed of around 1000MB/s, like the SanDisk Extreme Pro Portable SSD. But is it the world's fastest SSD with a USB-C hub? Yes, it definitely is.  
Aesthetics
In terms of aesthetics, TurboHub looks very similar to the Purgo USB-C hub. They both have this sleek design that allows you to simply plug them directly into your laptop. This eliminates your need for unnecessary cables. And it makes your whole setup look better and neater too.
Made with aluminum, the TurboHub is sturdy and lightweight. It has a very minimal look with no distracting branding or lights. It is also compact and portable, making it a great accessory to bring along wherever you need to go.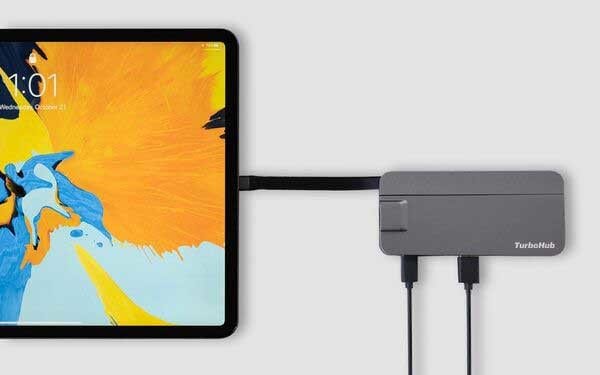 What's It Like to Use
TurboHub is a simple and extremely easy-to-use multiport adapter. Just mount it to your device, and you can immediately access your files and connect your devices. No need for special programs or drivers.
This hub comes in two options, so better make sure to choose the best one that fits your computer's ports. For instance, if you have a Macbook with dual ports, choose the company's Dual USB Type-C Connector. For other devices with a single Type-C port, the TurboHub Single USB Type-C Connector is what you need. 
The Verdict
The TurboHub is an ingenious product that combines two of the most important accessories people need – a multiport adapter and an external drive for additional storage. It is easy to use, portable and looks a whole lot better than most hubs. Overall, it's a huge upgrade from your average dongle.  
Last update on 2021-12-15 / Affiliate links / Images from Amazon Product Advertising API