Whether you're you a musician, graphic designer, businessman or anything in between, laptops are must-haves if you need to get work done on-the-go. But while they are handy machines, it can get quite tedious having to plug in your peripherals all over again every time you set up your laptop at home or in the office. And they often lack the flexibility that comes with all the extra ports you can find on a desktop rig. That's where docking stations like the Linedock Macbook Pro Portable Charger come in.
Docking stations are devices that allow you to hook up all your peripherals and accessories just like you would a desktop, then all you have to do is connect your laptop to the docking station without all the fuss. That way, you preserve your home or office set up just the way you like it, even if you pack up your laptop and head out. Dockings stations always come with a host of extra ports, though newer models sometimes include some useful extra features, such as card readers, charging capabilities, and even extra storage. In this Linedock Macbook Pro Portable Charger Review, we'll be taking a look at Lindock's 13-inch docking station to find out for ourselves if its sky-high price tag is justified.
Don't have extra time to spend reading the whole Linedock review? No problem. Just click on any of the links below to skip right to that section:
What is the Linedock Macbook Pro Portable Charger?
Linedock is a third-party tech developer that has so far focused solely on creating devices and accessories for the Apple ecosystem. I say devices, but they really only have one at the moment – a 13-inch docking station (simply called the Linedock) that's built with the Macbook Pro 13" in mind, though it does support the Macbook Air and iPad Pro as well. They do have a 16-inch variant currently in the works that's due for release sometime in the near future.
The purpose of the Linedock is to elevate your Macbook Pro to new heights by providing additional power, more storage space, and a whole lot more ports, bringing your laptop closer to desktop status. So not only does it help organize your home or workstations for more seamless transitions, but it also beefs up your laptop in the process. This is perfect for people who routinely connect their Macbook Pros to a variety of different devices and are looking for a neater workspace overall.
Oh, and did I mentioned that it's environmentally conscious? This docking station is allegedly 99.7% plastic-free and made up of recyclable aircraft-grade Aluminum alloy. I know what you're thinking. A gadget like that sounds pretty expensive. That's because it is. The Linedock's price range of $349 – $699 puts it well above most of the competition, so it's definitely not something for people looking to save a buck.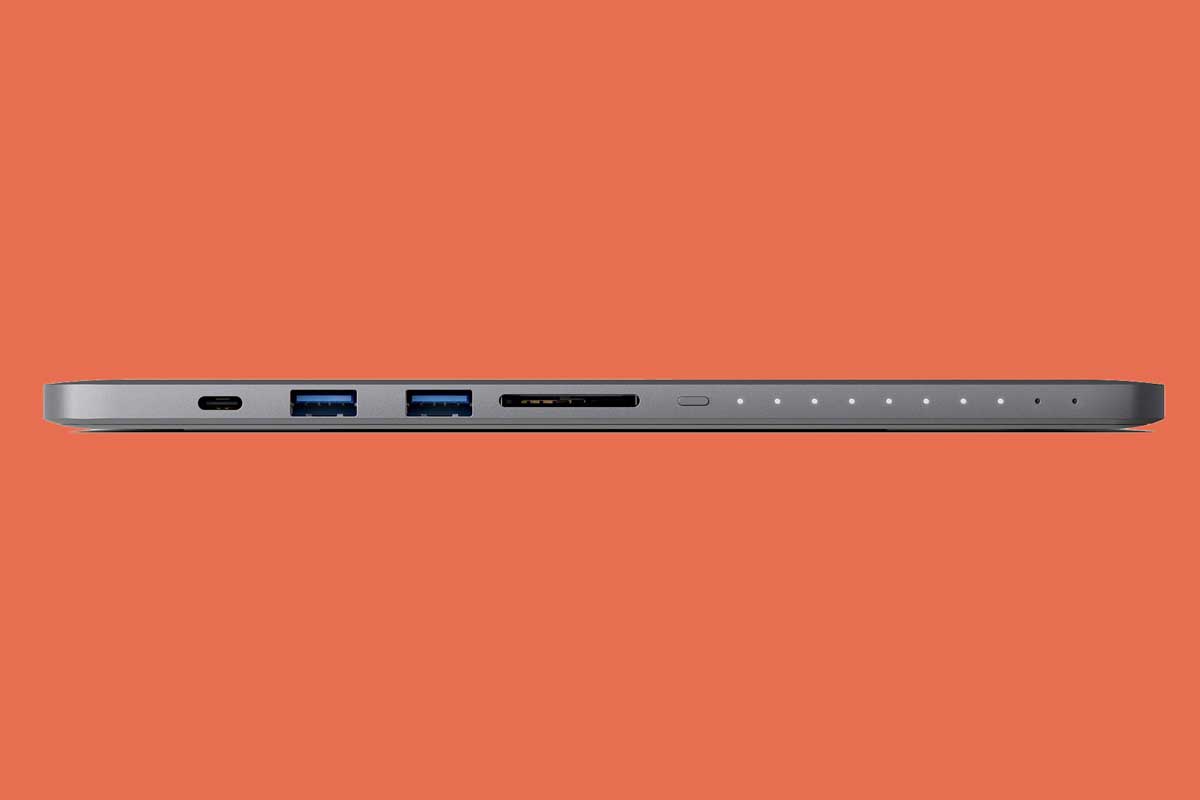 Design
The Lindock's design is as sleek as they come and fits perfectly with the Apple aesthetic. In fact, it's shaped exactly like a 13-inch Macbook Pro with its lid closed, except slightly thinner. It even sports the same silvery colour. So when you place your laptop over the docking station (which is exactly where it's supposed to go), it pretty much looks like two Macbook Pros stacked on top of each other.
It is perhaps the most well-designed docking station I've ever seen, and one that complements the Macbook Pro so well, you'd think that Lindock ripped a page right out of Apple's playbook.
On one of the shorter sides, you've got a USB Type-C port for connecting your laptop, two USB 3.0 ports, a slot for SD cards, the display button, and 10 LED lights, each representing a 10% increment in battery life.
On the opposite side, there's an HDMI port, a mini DisplayPort, another USB 3.0 port, and a USB Type-C port.
One one of the longer sides, you'll find two air vents on opposing ends and a USB Type-C input power port right in the centre.
The other long side has two more air vents, also on opposite ends.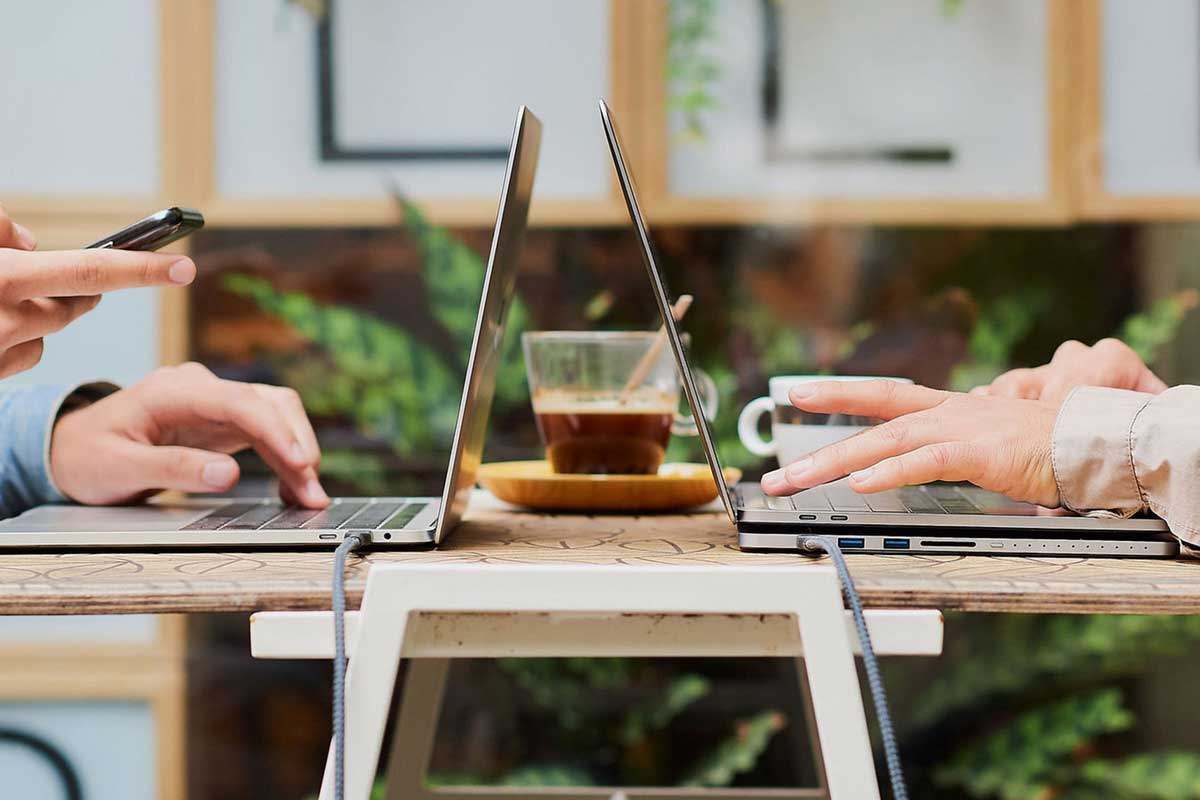 Features
Lindock's docking station isn't small by any means. Its width of 30.48 cm, height of 21.34 cm, and depth 1.02 cm make it almost the same size as a 13-inch Macbook Pro, and its hefty 912 g weight makes it roughly two-thirds as heavy. Travelling with this docking station is essential like lugging around two Macbook Pros. It's meant to sit right underneath your laptop, which connects to the Linedock through a Type-C port on the side using a special U-shaped connector. The docking station itself uses your Macbook charger to connect to an outlet.
All-in-all, the Linedock boasts 9 ports:
1 60W USB Type-C port for connecting to the laptop

Two 30W USB Type-C ports

3 USB 3.0 Type-A ports

1 HDMI port that outputs in 4K at 30Hz

1 Mini DisplayPort that outputs in 4K at 30Hz

1 SD Card Reader
One of the Lindock's most notable characteristics is its built-in 20,000 mAh battery, and while it's plugged in it supports up to 100W of pass-through charging. That means you can juice up your other devices while you charge your docking station. Even if you were to exceed the allowable wattage, the Linedock automatically distributes the power as its sees fit, and is even smart enough to wait until certain devices are fully charged before rerouting the power to other devices in need.
---
If you need a smaller battery pack, check out the Anker PowerCore or the Belkin 10k + Stand.
---
Need your Macbook Pro charged up in a hurry? Just activate Saiyan Mode which ramps up the laptop charging process. Bear in mind, however, that the docking station's temperature spikes pretty significantly so you'll have to remove your laptop from on top of it. Even if you strip away all of its other features, the Linedock still makes a solid portable charger for your laptop, which is pretty awesome.
Connecting your laptop to an external display is made extremely simple thanks to the HDMI, Mini DisplayPorts, and Type-C ports available on the docking station. People who like having a plethora of screens will be sorely disappointed, however, since it only allows a maximum of one external display at a time.
Another fantastic feature is its built-in storage medium. A lot of people try to save some cash when buying a Macbook by choosing one with less hard drive space, only to struggle with storage trouble later down the road. The Linedock comes in 256GB or 1TB SSD variants, though you can also choose to save some money and get the one without extra storage. It does have an SD Card slot, after all, which may be more than enough extra room for some.
 Linedock Spec List
| | |
| --- | --- |
| Dimensions | 30.48 x 21.34 x 1.02 cm |
| Weight | 912 g |
| USB Ports | 3 USB 3.0 Type-A, 3 USB Type-C |
| Display Ports | 1 HDMI, 1 Mini DisplayPort |
| Battery Capacity | 20,000 mAh |
| Max pass-through charging power | 100W |
| Extra Storage | SD Card reader, 256GB or 1TB SSD (Optional) |

What's it like to use?
The Linedock looks amazing and is innovatively designed to be hardly noticeable as it slips underneath your Macbook Pro just right. Its convenient port placement also makes setting up your workstation and connecting your usual peripherals a walk in the park. It's a well-built docking station on account of it being made up almost entirely of high-grade aluminium, and you can feel its heft as soon as you take it out of the box. Its significant weight and size, however, make it much less portable than some of its competition.
Connecting external displays is as simple as plugging in an HDMI or Type-C display connector, though the inclusion of an outdated display output like the mini DisplayPort is a fairly questionable decision. They could've just added an Ethernet port instead for people who require a wired internet connection, or even a 40Gbps Thunderbolt 3 port since the Linedock only supports Type-C connections with an inferior bandwidth of 5Gbps.
The pass-through charging and smart power rerouting work flawlessly and having the docking station double as a portable charger is brilliant. Saiyan Mode is a novel idea, and a functional one at that, but having to remove your laptop from on top of the docking station kind of goes against the entire Linedock design.
If you're into DIY and don't mind voiding the warranty, the Linedock supports an M.2 Solid State Drive, so you can actually purchase the variant without extra storage and install one yourself. Do it at your own risk. Several users have advised that the Linedock works just fine with Windows laptops, though a fair number of them also complained that it was a no-go. Do yourself a favour and steer clear of this docking station of you're rocking a Windows machine.
Final Thoughts
Calling the Linedock just a Macbook docking station would be quite the disservice. With its capability of adding extra SSD storage space and a portable battery roughly four times the capacity of the one in a 13-inch Macbook Pro, the Linedock acts more like a significant upgrade to your laptop experience. It's the best-looking Macbook-inclined docking station on the market, and while it's not exactly the most portable, it's super easy to use and comes with all the extra ports you'll ever need.
Not including Thunderbolt 3 or Ethernet ports feels like a huge missed opportunity, however, since your Macbook won't be transferring data at its maximum potential. And having to remove your laptop from on top of the device to activate Saiyan Mode seems like a pretty glaring design flaw. The Linedock comes with a pretty sizeable price tag, and can potentially be several hundred dollars pricier than its closest competitor. But that's not to say that its cost isn't warranted. With its laundry list of features and gorgeously Apple-esque design, the Linedock is one of the best there is at what it does. 
Linedock Review Box
Linedock Review
Design & Build

Features

Total Value
Summary
The 13-inch Linedock is one of the sleekest looking docking stations on the planet and looks like something Apple would be proud to call their own. It fits your Macbook Pro's aesthetic perfectly and provides it with a sizeable boost in battery power and, potentially, storage space, while also being incredibly user friendly.
Unfortunately, the absence of Ethernet or Thunderbolt 3 ports might be a huge let down for some, and being limited to one external display is disappointing, to say the least. All things considered, if you're willing to pay the steep price of admission, the Linedock is hands down one of the best dockings stations you can buy for your 13-inch Macbook Pro.  
Pros
✓ Jaw-droppingly aesthetic
✓ Doubles as a 20,000 mAh portable battery
✓ More ports than you can shake a stick at
✓ Capable of adding some much-needed SSD storage
✓ Automatically handles power rerouting
Cons
Lack of Ethernet and Thunderbolt 3 ports
✗ Saiyan Mode requires you to remove your laptop from on top of the docking station
✗ Pricey