Smartphone cameras nowadays have become increasingly more powerful with every generation and are perfect for taking photos and videos of everyday events and milder activities. But it's not like you're about to risk your smartphone to get a good shot of you skydiving or wakeboarding. For more daring adventures you'll want to swap that smartphone with a sturdier gadget like the OCLU Action Camera.
Action cameras are digital cameras created for capturing more intense activities that usually involve a lot of movement, hence the name. Because of the nature of these devices, they're designed to be a lot more rugged and portable than your average camera and are often waterproof to a certain extent. Most action cameras feature a variety of shooting modes for both photos and videos, including burst mode, time-lapse, and slow motion, and newer ones are capable of capturing videos in 4K resolution at 60 frames per second. 
While the most popular action camera brand of the past two decades has been the GoPro, several other tech companies have joined the fray and have introduced some interesting products and ideas to the market. In this OCLU Action Camera review, we're going to take a look at what OCLU brings to the table and find out why it made it onto our list of best travel gadgets for techies.
Pressed for time and can't stick around for the entire review? Just click on any of the links below to jump right to that section.
Overview
OCLU was founded in the mid-2010s with the singular goal of creating a revolutionary action camera right from the getgo. They do one thing and one thing alone, and they do it exceedingly well. OCLU ditched the conventional design that action devices are known for and opted for a bolder look and more innovative design without compromising the sturdiness expected from the device to operate at a high level. Their gamble seems to have paid off, with the OCLU Action Camera being one of the most strikingly gorgeous cameras of its type in the market today.
Make no mistake, OCLU's little beauty is more just a pretty face. It features some cutting edge software that's user-friendly to boot and has more than its fair share of shooting modes to fit a variety of situations. It also sports a unique camera placement that's a game-changer, especially if you're planning on mounting it on a vehicle. OCLU's action camera has taken home several illustrious awards, including the Red Dot Design Award, the European Product Design Award, and the iF Design Award, so you know for sure that they're not just hype.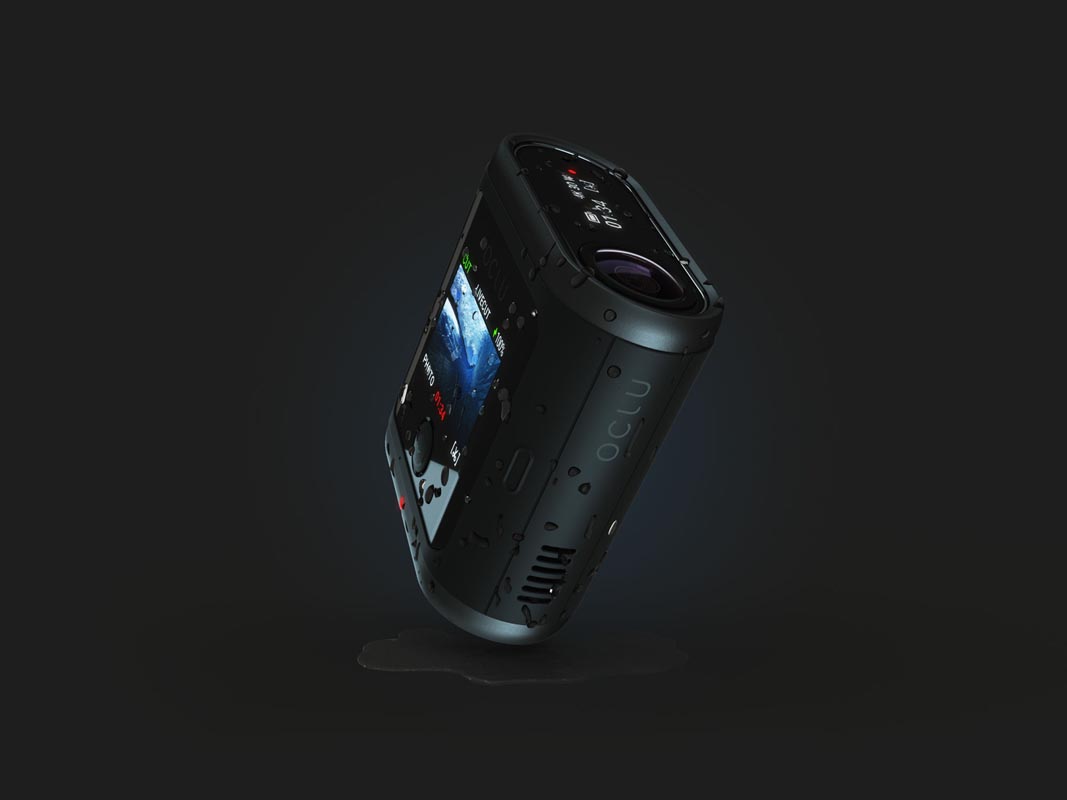 OCLU Action Camera Features
The OCLU Action Camera is a tiny little thing, which is a great feature for cameras of its type. It's only 62.5mm long, 61.5mm wide, and 28mm thick, making it less than half the length of the average smartphone. Not only does it fit comfortably in the palm of your hand, but it also weighs a mere 101 grams with the battery included, so carrying it around is no trouble at all.
Performance-wise, the OCLU Action Camera is top-notch. It boasts a 4K resolution lens that's able to shoot videos in normal speed and slow-motion that includes video stabilization. While it's perfectly capable of shooting 1080p videos at up to 120 fps, it's unfortunately limited to 30fps when filming in 4K. Some of the newer Go Pro models reach 60fps at 4K. As for its photo-taking resolutions, OCLU's camera can snap shots in 12MP, 8MP, and 5MP.
Its shooting modes include Time Lapse, Burst Mode (up to 10 pictures per second), MultiPhoto, Continuous Loop Recording, and Motion Recording. Right next to the lens there's a digital display the shows the resolution, fps, shooting mode and more.
Perhaps the OCLU Action Camera's most coveted feature is its patented Live Cut software. When set to Live Cut, you can snip out any unwanted footage in real-time, without having to stop recording in order to micromanage your clips. What makes it even cooler is that it all works at the touch of a button, so you can cut out those useless clips without breaking a sweat.
It's especially useful if you're recording an activity that requires a lot of trial and error, like pulling off a sweet skateboarding trick or making 5 shots in a row from the 3-point line. Just keep snipping away the failed attempts until you nail it. You'll get a lot of filming done as well since its 1000mAh battery capacity will net an hour's worth of continuous filming, easy. You can charge your action camera using the OcSnap magnetic cable that connects by simply slapping it on to the bottom of our device. It doubles as a data cable too, which you can connect to your PC to access your footage.
The OCLU Action Camera is as tough as they come and has a waterproof rating of IPX7, meaning it can withstand up to 1 metre of water for half an hour. If you're big on watersports, you might want to consider buying the optional OcShell IPX8 waterproof case, which allows you to dive all the way down to 50 metres. If you're planning on mounting the camera on a tripod, OCLU made it easier than most by adding a built-in threaded screw that you can use to hook up your tripod without the help of a separate mount or casing. That way you can take some killer footage of yourself without needing someone else to man the camera. In case you're worried about audio quality, the OCLU Action Camera comes with 3 microphones so you can rest easy.
OCLU Action Camera Specs
| | |
| --- | --- |
| Dimensions | 62.5mm x 61.5mm  x 28mm |
| Weight | 101 grams |
| Video Resolution | 4K up to 30fps; 1080p up to 120fps; 720p up to 240 fps |
| Photo Resolution | Up to 12 MP |
| Battery life | 1000mAh |
| Waterproof rating | IPX7 |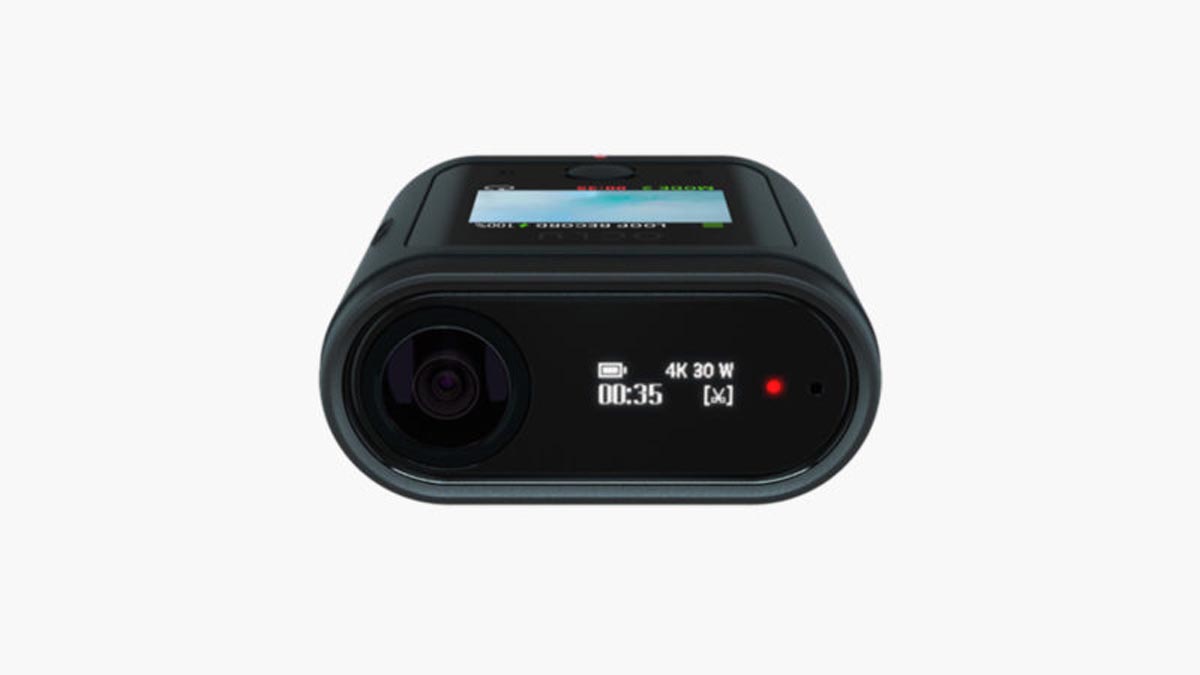 Design
The first thing you'll notice about the OCLU Action Camera is its unconventional design. In a world where most action cameras adopt the same boxy visage, OCLU dared to do things a little differently by going with a more modern, ergonomic look and feel. Its rounded sides make it look sort of like a cylinder that's been pressed and flattened in the middle. It's a great design that's both fantastic to look at and functional as well since its sleek shape minimizes wind resistance while filming high-speed footage.
While its LCD screen is just about the same size as any other action camera, it's located on its face as opposed to being on its back. Instead of placing the camera lens on the front of the device like most of its competitors, OCLU decided to place along its top edge, making it easier to view the footage on your LCD screen as you're filming. It's a revolutionary idea that will likely be picked up by other brands in the future. Just below the LCD is the action button which is also used to snip unwanted footage when set to Live Cut.
There are two buttons on the left side of the device, and another button and a speaker on the right. Overall, the OCLU Action Camera has 3 microphones, one on the opposite end of the camera lens and two more on either side of the action button. The MicroSD slot can be found on the bottom of the camera, along with its battery hatch and the Ocsnap connection that's used for charging and data transfer. Finally, it has a threaded screw on the side opposite the LCD which you can use to painlessly mount it on a tripod or other surfaces.
What's The OCLU Action Camera Like To Use?
OCLU's intuitive design makes the action camera a joy to use, and filming with its unconventional camera placement makes tracking the action on the LCD screen easier than ever. Including a threaded screw allows users to painlessly set up tripods which is a wonderful addition for people who like to embark on solo adventures.
The buttons are all well-placed and the software's straightforward and easy to wrap your head around so you'll be shooting exhilarating videos in no time at all. OCLU's Live Cut feature is absolutely genius, giving you the ability to seamlessly cut out useless footage as you're rolling. Granted, you need a person behind the camera to do the snipping, but it's an amazing concept nonetheless. The Ocsnap magnetic cable is a nice touch, letting you both charge your device and connect it to your pc or laptop simply snapping the cable onto the charging port.
Final Thoughts
OCLU defies action camera norms by bringing in a bolder, prettier device that's a lot more than just good looks. Its intuitive camera and LCD screen placement present more opportunities to capture better shots. OCLU's signature Live Cut is just as impressive as advertised and paves the way for future on-the-spot editing features in action cameras moving forward.
It doesn't disappoint in the image quality department either, offering top-notch videos and photos that are smooth and crisp. It's a shame that it only shoots 4K videos at 30fps, but I guess you just can't have it all. If you're in the market for a new breed of action camera that's not quite as expensive as a higher-end GoPro, the OCLU Action Camera should be at the top of your list.
Editor's note: We just reviewed the DJI Osmo 3 Phone Gimbal. This product is perfect if you want to capture your trip but don't need something this extreme and want silky smooth video.
Thank you for taking the time to read our OCLU action camera review. Hopefully made you a more informed consumer and helped you in your purchasing decision.
OCLU Action Camera Review Box
OCLU Action Camera Review
Look Station

Features

Total Value
Summary
The OCLU Action Camera is a fantastic device that's a lot more than just a GoPro alternative. It's innovative camera placement and aesthetically-pleasing yet function design are reasons enough to choose it over any of its competitors. Add that to its revolutionary Live Cut feature and stellar image quality and you've got one of the best action cameras currently sitting at the $199 mark.
Pros
Excellent image quality
Live Cut feature is groundbreaking
Innovative camera placement and overall design
Good battery life
Well-built and easy to use
Affordable
Cons
Shooting in 4K locks you at 30fps