Portable power banks are nothing new for most of us and continue to be a necessary phone accessory for power users or for those on the go. There is a myriad of options on the market and it can hard to differentiate between many of these products. Belkin is attempting to stand out in this sea of power bank stans by adding a simple, yet very useful feature – a phone stand.
The Belkin Power Bank 10k + Stand (this is the official product name) is not the only power bank with a stand, but it is the only one from a household brand like Belkin (from what I can see).
The power bank market is swamped by non-branded and unknown brand products that have varying levels of quality. However, anyone who has used unbranded products for charging purposes, whether it be a phone or any other device, knows that it never ends well. This gives Belkin's power bank a unique position in the market, but is it any good? Find out now in this Belkin Power Bank 10000 + Stand review. Feel free to skip ahead to different sections of this Belkin power bank review:
Overview
There have been many occasions in my time where I have tried propping up my phone against, well anything, to watch a video. And there has almost been as many occasions where my phone has slipped, fallen flat on it's back and forced me to go through the entire process again.
This is a small problem, admittedly a frustrating one, yet not a problem that justifies buying a phone stand, just for standing. There have also been countless occasions where my phone has run out of battery. Almost daily actually! This has forced me to carry around a battery bank. This is totally normal. But, what if a product combined these two solutions into one product. It turns out that is a really good phone accessory!
The Design
Belkin is marketing this device as a mobile gaming accessory, which it certainly can be. I think their logic for this is a) huge growing interest in mobile gaming and b) the fact this device has two USB ports to simultaneously charge two devices.
The two ports are 12W 1x USB-C (woohoo!) and a 12W USB-A. In their marketing, they show images of a phone and controller both being charged. Perfect. But this power bank is very versatile and its features can be enjoyed by anyone with a phone really. In fact, I would argue this product is absolutely perfect for travellers and commuters.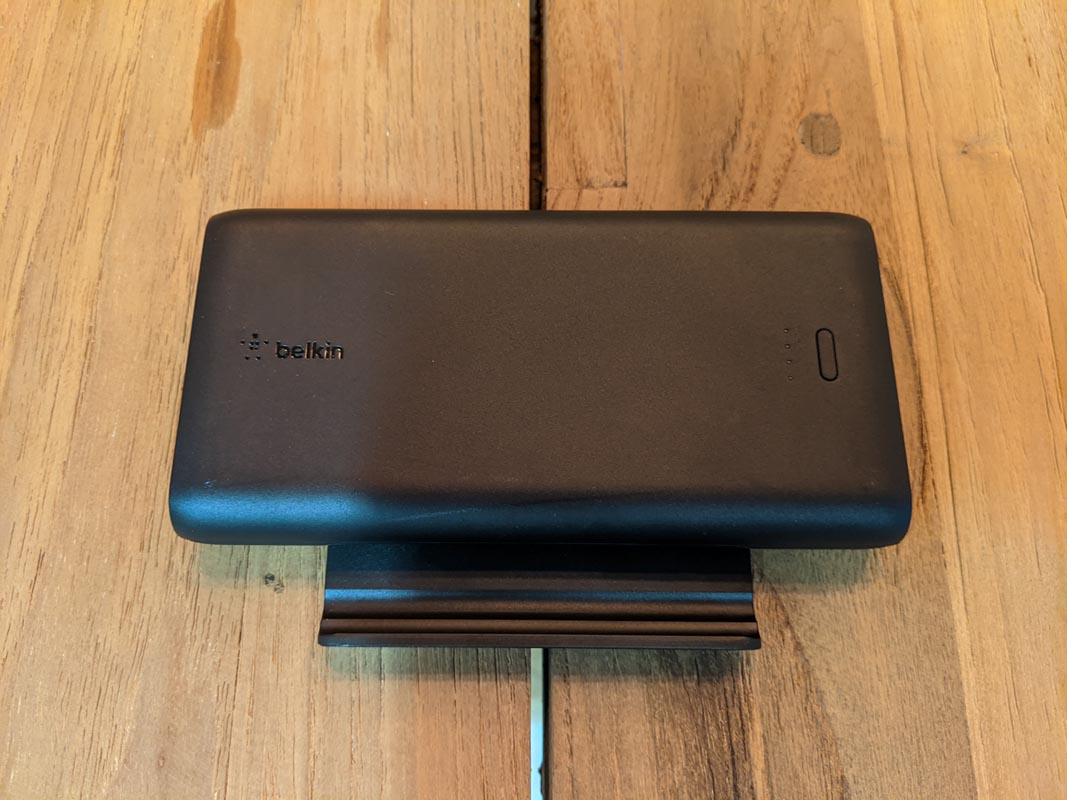 USB-C should be a requirement on any new USB-based device but it's still a good idea to include a USB-A while the rest of the world catches up. Even me, who has more tech than the average person still has plenty of devices requiring a USB-A.  Both of these USB ports are located on the left face, with an additional USB-C on the front face for charging the portable charger. This is good design as it makes it possible to charge the battery pack and keep two devices charged while using it as a phone stand. It's nothing groundbreaking but at least they have used common sense and to not block any of the charging ports by the phone stand.
The phone stand itself is very simple, but yet again, very effective. I use a Google Pixel 3 XL and it stands with ease and doesn't easily fall out. It takes a fairly aggressive shake for it topple over. Way above what you could expect from being on a train of a plane.  The stand slides in and out of the underside of the body and follow the curved side profile. When it is slid in, it's barely noticeable and doesn't affect the form factor whatsoever.
There is a finger-sized cut-out on the bottom to help you gain purchase on the stand. It doesn't take too much pressure to pull it out, but enough that it won't slide out on accident.  One thing worth mentioning is that when I tried to use the stand without my phone case it was noticeably less stable. The Pixel 3 XL has glossy curved sides, which definitely doesn't help.  Once it is fully extended you will feel a small click, which locks it into place. Simply place your phone on it horizontally and you're good to go. I did try in vertically, but it didn't really work.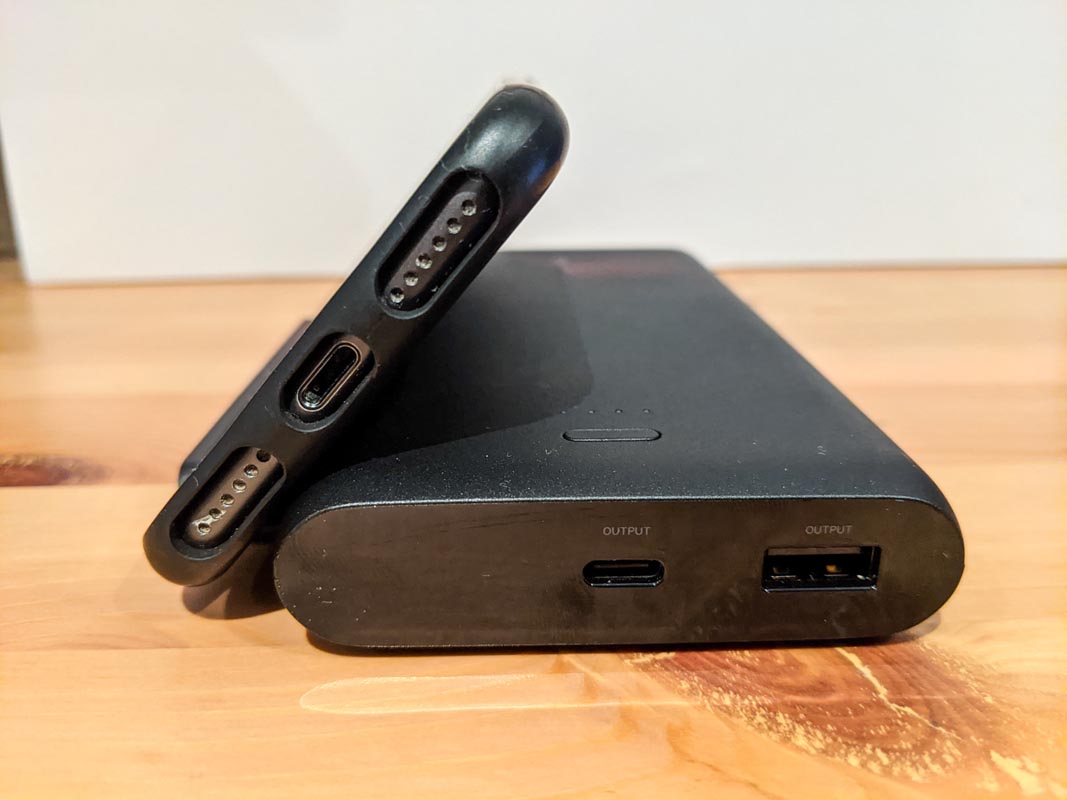 Aesthetics
Belkin has opted for a very minimalist aesthetic design, with an all-black matt plastic casing bookended by a glossy black finish on each of the side faces. The Belkin logo is embossed into the top side. All of this results in a very smart-looking power bank.
As for size, it's about standard for any 10,000mAh battery pack with a length of 15cm, a height of 7.6cm and a width of 2cm. In other words, it's about twice as thick and little less wide and tall than your average smartphone. I fit quite comfortably into a pocket and won't take up much room in a bag at all.
Battery Length & Charging
Belkin has fitted the Belkin Power Bank 10000 + Stand, with, you guessed it, a 10,000mAh battery capacity. This means, in theory, it should be able to charge the Pixel 3 XL's 3,430 mAh just under three times.  As for charging times, this Belkin power bank outputs at a very good 12w. This is considered fast-charging and in theory, should be able to charge my phone to 100% in approximately 90 mins.
From my testing, this was the case on both accounts. I fully charged the Belkin device and completely depleted my phone battery and exclusively used the power bank to charge my phone to 100% twice and then to 73% on the third occasion. This is excellent and gives you confidence if you're out and about for extended periods.
The Belkin Stand + Play was also able to charge my phone at the optimum rate. Once again making good on its promise! It must be noted that the 12w is the total and will be shared across both ports. So if you're charging two devices at once you won't be able to charge at the optimal rates. Finally, the Belkin Powerbank itself charges at 12w. It took approximate 3 hours to get it to 100% using my Macbook charger. Pretty good.
Pass-Through
Pass-through is an incredibly useful feature that I have used on many occasions with different battery packs, like the Cygnett 4,400. Basically, you are able to charge the power bank, while the power bank is passing through the charge to your devices. Once your devices are charged the power bank will begin to charge. This is very useful if you are limited on plug sockets.
Final Thoughts
I was very impressed overall with this portable battery bank. It does everything you need a battery bank to do, and more! The stand feature is incredibly useful and you won't realise how often you want to use it until you own one. The USB-C is great to see, as well as the pass-through capability. Yes, it is a little pricey, but it's a good quality, functional product from a reputable brand. I'd say it's worth the money if you're in the market for a new battery pack, but not worth the money if you already own one.
Belkin Power Bank 10k + Stand Review
Design & Build

Features

Total Value
Belkin Power Bank 10k + Stand Review Summary
This product is easy to recommend to somebody who either does a lot of commuting or travelling. It has a relatively large capacity and a phone stand to watch during downtime. It has both USB-C and A, so it covers a wide range of devices as well.
Pros
✓ USB-C & A
✓ Phone Stand
✓ Good Design & Build Quality