Summary
If you're in the market for a premium all-in-one cable that's chock-full of features and won't break the bank, the inCharge 6 is one of the best ones we've ever come across. The standard variant's short length may be a bit limiting, but that can be easily remedied by choosing the longer version instead.
Pros
Sturdy build that's easy on the eyes
Functional features
Strong magnets allow you to wrap the cable around your keyring without worry
Offers a bunch of different connections
Cons
The standard version is quite short
Sick of never having the right cable at the right time? With the inCharge 6, you won't ever have to worry about which cable to take along with you since you'll have pretty much all of them right next to your ring of keys.
It's not only convenient either, as the inCharge 6 is built as sturdy as they come and isn't too heavy on the wallet. Will this truly be the last cable you ever need? That's what we're here to find out, in this inCharge 6 review.
Don't have the time to read through the whole review? Simply click any of the links below and we'll take you right to that section.
Overview
The inCharge 6 is a four-inch cable developed by Rolling Square – a tech brand that's focused on creating high-quality products that are affordable, functional, and geared towards making people's everyday lives a bit easier. And that's exactly what they intended to do with the inCharge 6.
You're getting six types of connections from standard USB to Lighting, all protected by tough materials that ensure your cable can take one heck of a beating. And to top it all off, it's sleek looking and exceedingly simple to use.
Read more: Elechive 2200 Review – Portable Battery Bank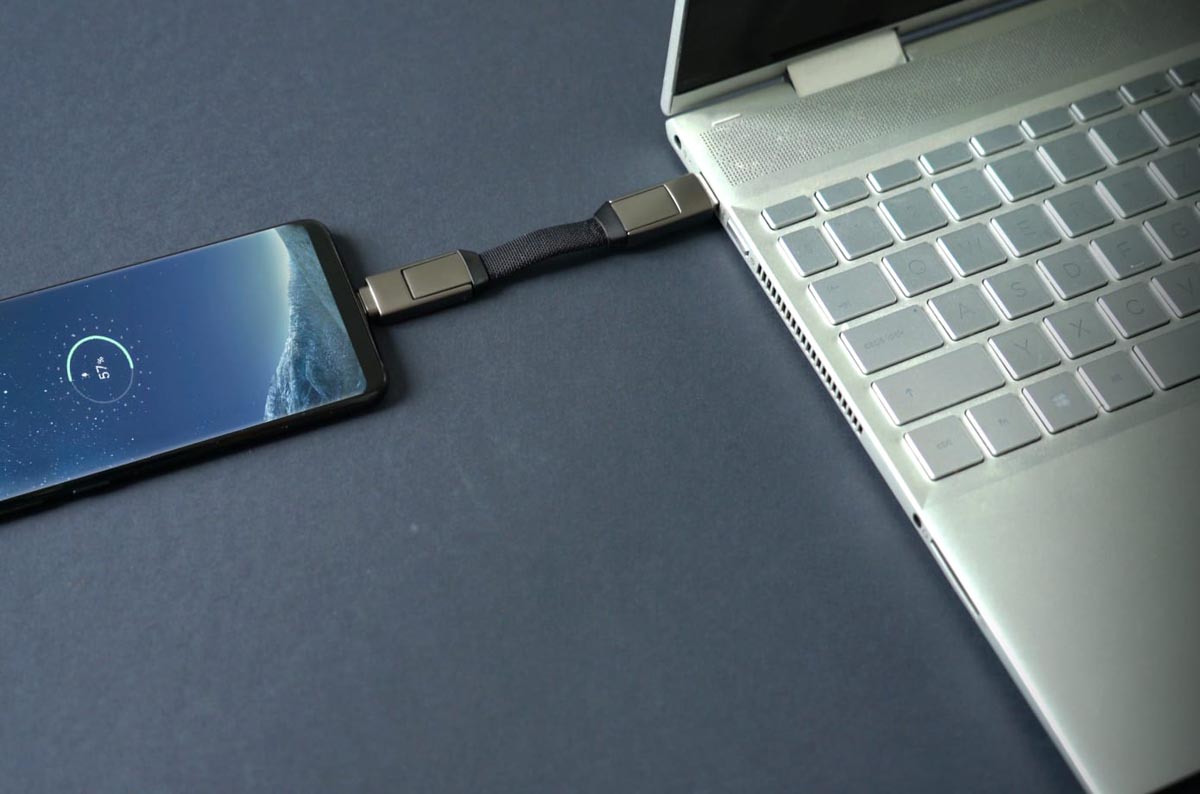 Features
Six-in-One
The inCharge 6 allows you to charge your device from pretty much any source, thanks to its six different connection types. Here are the connections you can expect:
USB to USB-C
USB to Dual (Lightning + MicroUSB)
USB-C to USB-C
USB-C to Dual (Lightning + MicroUSB)
Charge and Sync
The Charge and Sync feature allows you effortlessly transfer information from your mobile devices to a PC or laptop, anytime, anywhere.
Power Transfer
Wish you could transfer a bit of charge between your phone and other devices? Well, that happens to be one of the inCharge 6's coolest features. Provided you use the USB-C port as input, you can siphon power from a host of different devices and use it to juice up your own.
Sturdy Build
Metal Housing: The ports are encased in a zinc-aluminium alloy that protects them against all sorts of damage.
Cable Guard: This prevents the copper wires from overbending and keeps them safe from harm.
Ultra Lasting Compound: The wires are made out of 90 braided copper wires and the Cable Guards are crafted using a TPU layer that's covered with nylon reinforcement.
N52 Magnets: These are the highest grade magnets around which also feature an anti-slide system that'll make sure they never accidentally fall off.
inCharge 6 Max
If four inches is a little too short for your cable needs, you can opt for the inCharge 6 Max – a five-foot (1.5m) variant that'll give you all the extra slack you need.
Specs
| | |
| --- | --- |
| inCharge 6 Length | 4 inches (10.16 cm) |
| inCharge 6 Max Length | 4 Feet (1.5 m) |
| Inputs | USB-C, USB |
| Outputs | Dual (Micro USB + Lightning), USB-C |
Aesthetics
The inCharge 6 sports a black braided cable that ends in long, rectangular ports on either side. Pulling the port and folding it downward reveals another port hidden underneath, which is how the cable manages to support as many different types of connections as it does.
Its aesthetic isn't exactly revolutionary but the inCharge 6 is sleek and handsome and looks pretty cool dangling right beside your set of keys. It also comes in three different eye-catching colours: Mercury Grey, Moon White, and Saturn Gold.
Read more: Storm 2 – A Cyberpunk-inspired Power Bank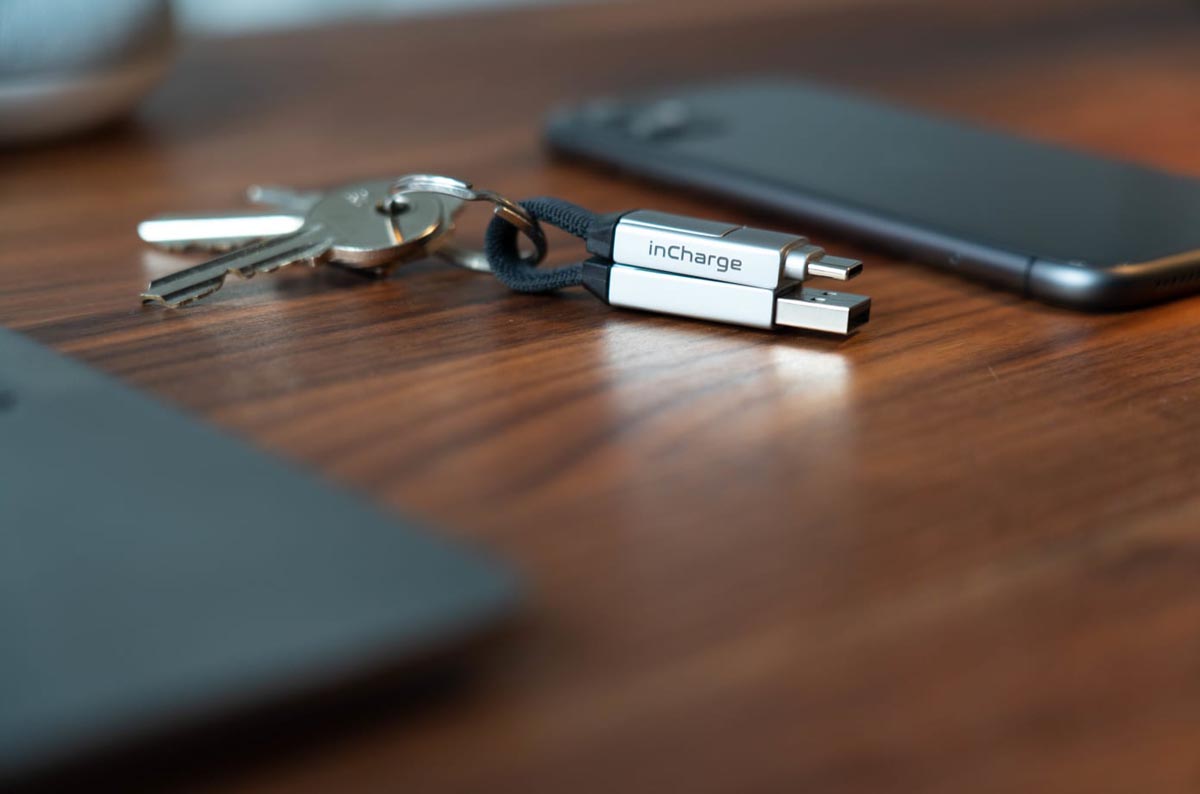 Final Thoughts
For people who have all sorts of gadgets that utilize several different port types, the inCharge 6 ensures that you only ever have to carry one cable with you at any given time. You won't have to worry about losing it either thanks to the powerful magnets that allow you to fold the cable around your keyring.
As for durability, the inCharge 6 is made out of top-notch materials that can take quite the beating, so you shouldn't fret about dropping it a bunch of times. You're also getting some awesome functional features like Power Transfer and Charge and Sync and the cable itself is pretty good-looking to boot.
As far as all-in-one cables are concerned, the standard inCharge 6 is a little on the short side but that doesn't stop it from being one of the best ones money can buy.