FICIHP Multifunctional Keyboard
Should you buy?
Whether you're planning on using it with a smartphone or a PC or laptop, the FICIHP Multifunctional Keyboard with 12.6 inches Touchscreen is an incredibly useful peripheral that makes multitasking more accessible than ever. It even comes in different switch variants depending on whether you prefer scissor or mechanical switches. It may be pricey and its compatibility could use a little work, but no other keyboard out there does what this guy can.
Pros
Having a touchscreen display attached to your keyboard is remarkably useful
Your choice of scissor and mechanical switches
Plug and play nature makes it super easy to use
Cons
Desktop mode for smartphones is only offered by a few brands and models
Keyboards have become increasingly more innovative throughout the years, with some of them including multipurpose dials, foldability, touch bars, and even miniature trackpads. The FICIHP Multifunctional Keyboard with 12.6 inches Touchscreen is looking to take things to the next level by throwing in an entire screen with full touch capabilities, giving you a whole new sense of multitasking.
Problem is, there have been a lot of gimmicky keyboards in the past, a lot of which sounded a lot better on paper than they ended up being in practice. Can this one make good on its promises of revamping your entire PC and mobile experience? That's what we're here to find out, in this FICIHP Multifunctional Keyboard with 12.6 inches Touchscreen review.
Don't have the time to read through the entire review? Just click any of the links below and we'll take your right to that section.
Overview
The FICIHP Multifunctional Keyboard is developed by Shenzhen Pengling Zhichuang Technology Co., Ltd – a relatively new player in the electronics scene that focuses on 3C products, meaning they deal with electronics related to computers, communications, and consumers. Their keyboard aims to cater to all kinds of users by providing them with unbridled multitasking capabilities through the addition of a full-size touchscreen display built right into the device.
It isn't limited to PCs and laptops either, as the FICIHP Multifunctional Keyboard is also compatible with smartphones, offering you a larger display and a smoother typing experience – especially for people like me who don't care much for touchscreen typing. And that's just the tip of the iceberg, as the keyboard comes with tons of other cool features, like RGB capability, swappable keycaps, and more.
Features
Two Different Keyboard Types To Choose From
The FICIHP Multifunctional Keyboard is available in two different versions – K1 and K2. K1 features scissor-switch keys that are perfect for people who enjoy the feeling of typing on a laptop. K2 offers three different mechanical switches to choose from – Blue, Brown, and Red, each with a distinct sound and feel.
12.6-inch Full Colour Touchscreen Display
This keyboard's highlight is the built-in 12.6-inch touchscreen display that features a 1920 x 515 resolution at 60 Hz, promising a near-monitor quality of sharpness.
Highly Compatible
Whether it's a desktop PC, laptop, or smartphone, the FICIHP Multifunctional Keyboard is compatible with a wide range of devices. It works with computers and smartphones with Type-C full-function interface, as well as computers that offer an HDMI interface.
USB Hub
You'll get two USB 2.0 slots built into the keyboard, making it easier to connect flash drives, external hard drives, mice, and other devices. This comes in especially handy if you want to use a mouse and keyboard with your smartphone.
Screen Projection
As long as your smartphone offers Huawei EMUI, Samsung DEX, or a similar mobile desktop functionality, the FICIHP Multifunctional Keyboard's 12.6-inch screen automatically acts as your phone's primary display and shifts to a type of desktop mode, giving you a laptop-like experience.
Minimal Delay
The FICIHP Multifunctional Keyboard's screen has 10 touchpoints, allowing it to achieve next to no delay when used. Whatever you tap, you can rest assured that it'll be registered immediately with no dropped inputs.
Plug & Play
No download or companion software is required to get this keyboard running. Just plug it into whatever device you're planning to use it with and you're good to go.
RGB Capable
Gamers will be glad to know that the FICIHP Multifunctional Keyboard is fully RGB capable, offering 15 different types of backlight settings and adjustable brightness.
Swappable Keycaps
Fancy pimping out your keyboard a little? The K2 version of the keyboard comes with swappable keycaps, so you can replace the stock ones with something that's a little more your style.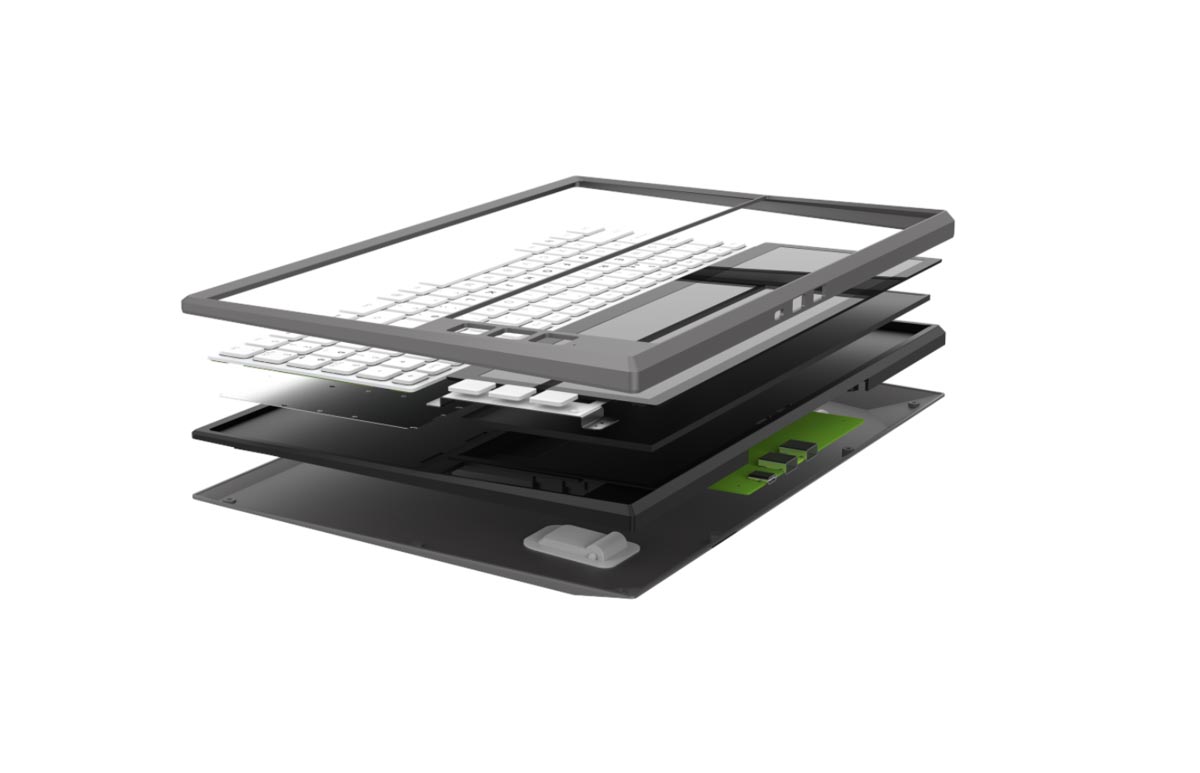 Specs
K1 Specs
| | |
| --- | --- |
| Dimension | 357 x 232.5 x 26 mm |
| Weight | 1.10 kg |
| Angle of Adjustment | Max 5° |
| Number of Keys | 95 Keys |
| Hot-Swappable | No |
| Number pad | Yes |
| RGB Backlight | Yes |
K2 Specs
| | |
| --- | --- |
| Dimension | 334.5 x 215.7 x 31 mm |
| Weight | 1.36 kg |
| Angle of Adjustment | Max 15° |
| Number of Keys | 71 Keys |
| Hot-Swappable | Yes |
| Number pad | No |
| RGB Backlight | Yes |
K2 Gateron Switch Specs
Blue
Brown
Red
Actuation Force
60 ± 15gf
50 ± 15gf
45 ± 15gf
Pre-Travel
2.3 ± 0.6 mm
2.0 ± 0.6 mm
2.0 ± 0.6 mm
Travel Distance
4.0 ± 0.4 mm
4.0 ± 0.4 mm
4.0 ± 0.4 mm
Behaviour
Clicky
Gentle
Quiet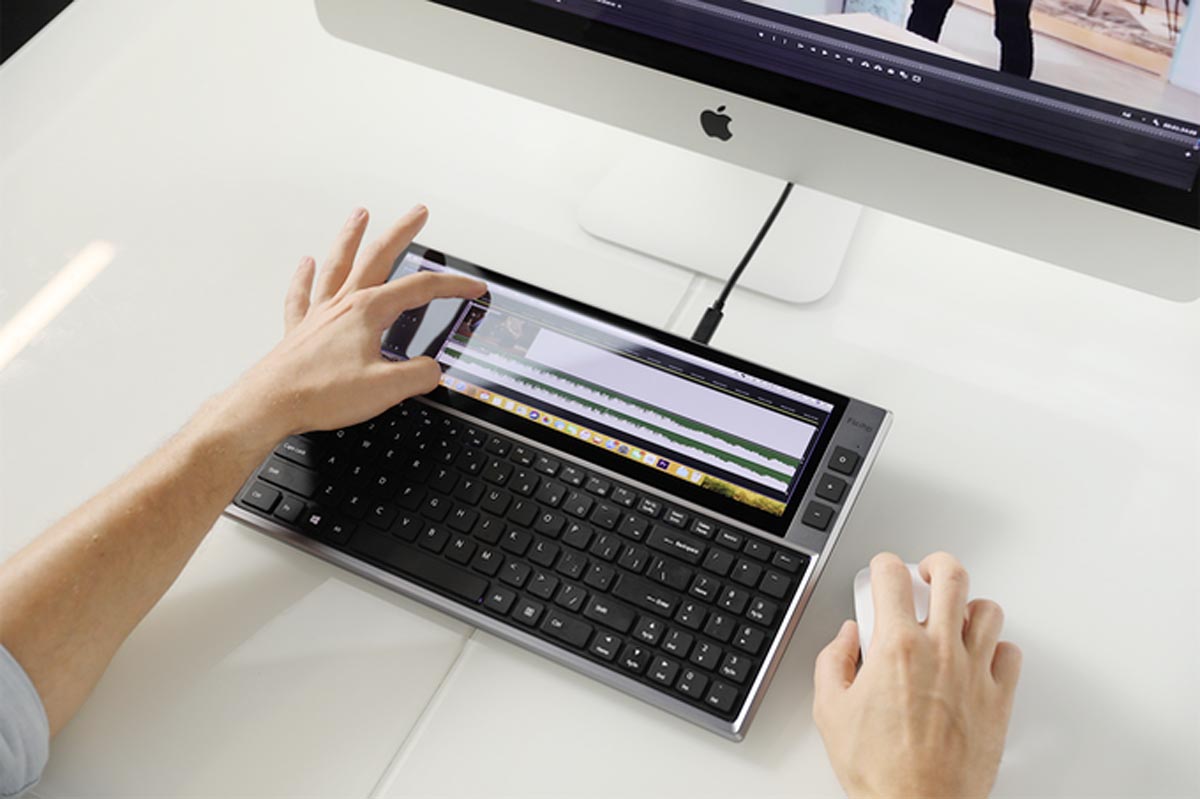 Build & Design
The K1 and K2 versions of the FICIHP Multifunctional Keyboard look fairly different from one another. The K1's colour scheme is a mix of muted black and silver and is obviously thinner on account of the scissor keys. But it's also wider overall and has more keys along with a Numpad. It also has a few extra keys on the right of the screen. The K2, on the other hand, sports glossy black keys and has a smaller surface area but it's actually the heavier of the two.
All things considered, both versions boast a low-profile design that'll be a welcome sight for professionals and office workers, though the keyboard's excellent RGB capabilities make it a strong choice for gamers as well.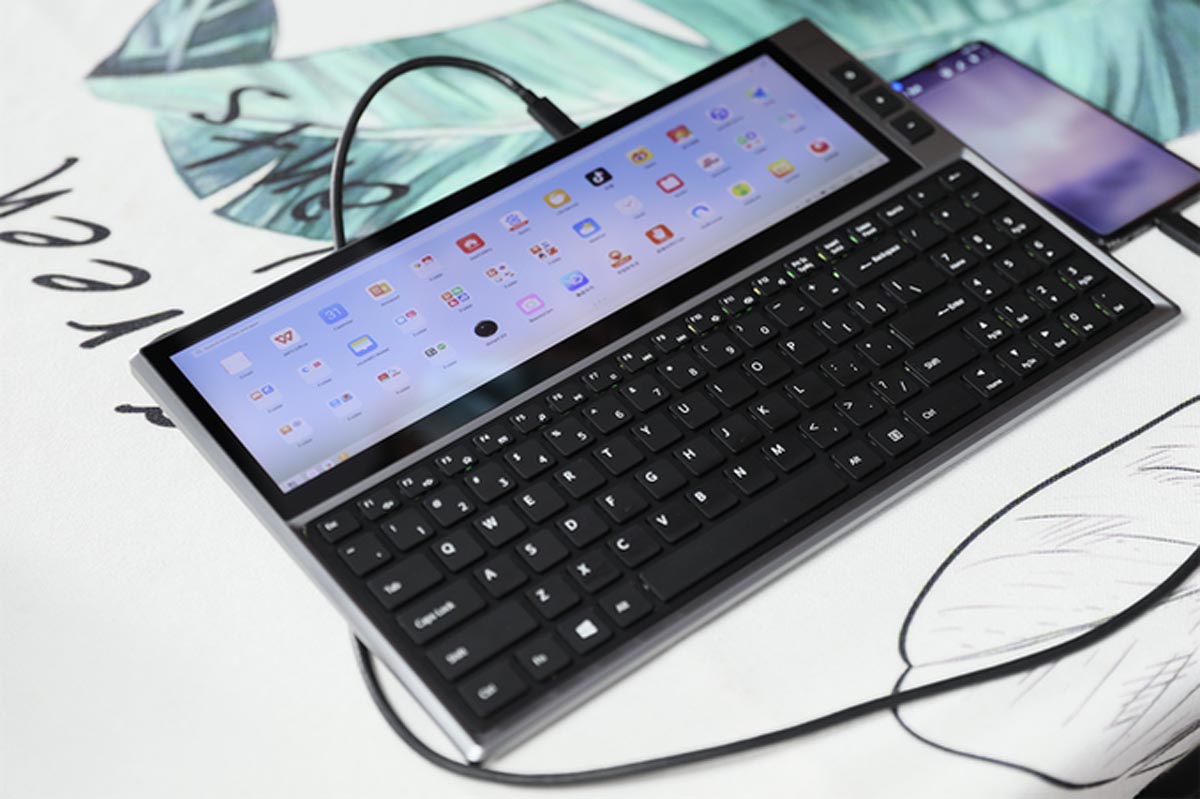 How does it work?
Since the FICIHP Multifunctional Keyboard is a plug and play peripheral, getting it to work is as easy as plugging it into your device of choice, whether it's a PC, laptop, or compatible tablet or smartphone. It's a simpler solution for turning your smartphone into a laptop compared to a lapdock like the NexDock 2 since it has fewer moving parts but at the end of the day it's basically just a keyboard with a screen attached to it.
If you're interested in the K2 variant, you'll have a choice of three distinct switch types. The blue switches are the clicky ones, giving you a more satisfying click sound. The reds are quieter and require less force to press, making them ideal for fast typing. Finally, the brown switches serve as the middle ground between the blue and red.
Final Thoughts
The FICIHP Multifunctional Keyboard with 12.6 inches Touchscreen not only offers a novel idea but manages to execute it exceedingly well and in a way that will attract all kinds of users. Having a large touch screen panel right on top of your keyboard opens up limitless possibilities for work and play and makes general navigation that much easier. It's like the Apple Magic Keyboard with a touch bar but a lot more useful.
Its use with a compatible smartphone is just as impressive, allowing you to turn certain Huawei and Samsung phones into a sort of laptop, though its compatibility in this department is still a little narrow. That being said, there's a lot of room for more smartphones to join in the future.
If you thrive on multitasking and are itching for a lot more control from your keyboard, then the FICIHP Multifunctional Keyboard with 12.6 inches Touchscreen definitely is the perfect peripheral for you. Be warned, however. It's not going to be friendly on your wallet.