Summary
The AI VINU takes a step in the right direction where other STEM coding robots have to do. The built-in LCD touchscreen makes interacting with this robot much more intuitive and delivers a more enjoyable overall experience. There's plenty of fun and educational activities to choose from, making the AI VINU well worth your consideration.
Check out the full Kickstarter campaign by clicking the button below.
Pros
Tons of activities
Built-in screen
Well-built
AI VINU is the world's first unplugged LCD robot that aims to teach kids how to code. It gamifies coding to make it more approachable and more engaging to children, creating an interactive experience keeping them hooked!
As all parents and teachers know, kids love screens. Many kids are introduced to smartphones before books and AI VINU was designed with this in mind. The built-in LCD screen provides kids with familiarity and an excellent input method they are used to.
So, instead of sitting the kids down with an iPad and Youtube, you may want to look into the AI VINU as an alternative with benefits.
Features
Fully Independent.
Thanks to the built-in computer and touchscreen the AI VINU is completely independent and does not require access to a tablet or phone. This is great for beginners who don't want to blow the budget.
Touch Screen & Stylus
The touch screen helps kids better interact with AI VINU in a familiar and easy manner. Although the screen is a tad small, it is easy to tap where you want to with the stylus. So even if you have chubby fingers, you can help your kid out when you need to.
The screen is nothing like modern a smartphone's, but it's absolutely fine for this type of device.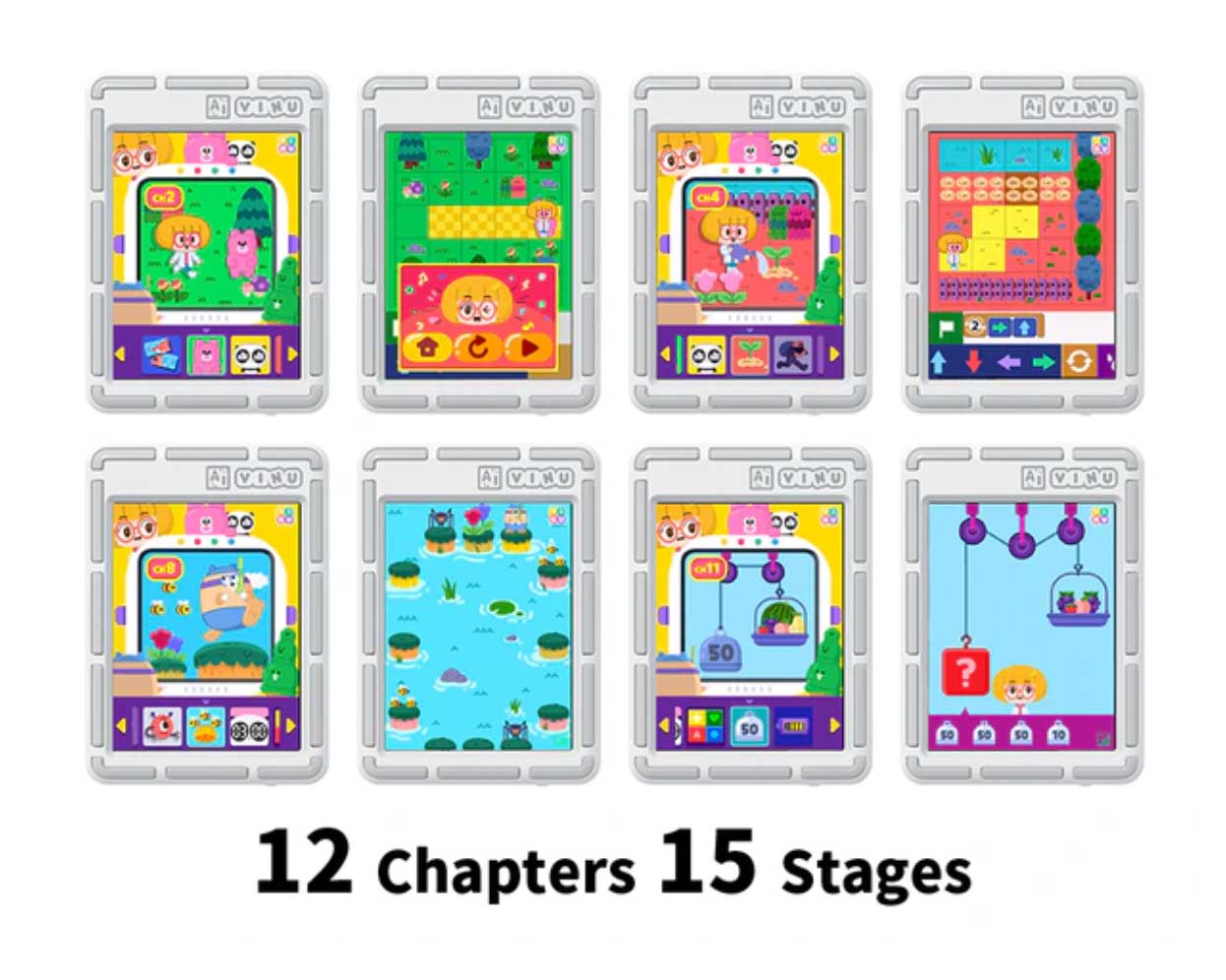 Games Galore!
There are 180+ mini-games and "missions" built into the AI VINU, providing 100s of hours of fun and learning. The missions are split over 15 stages and 12 chapters with unique characters to help keep the kids engaged throughout.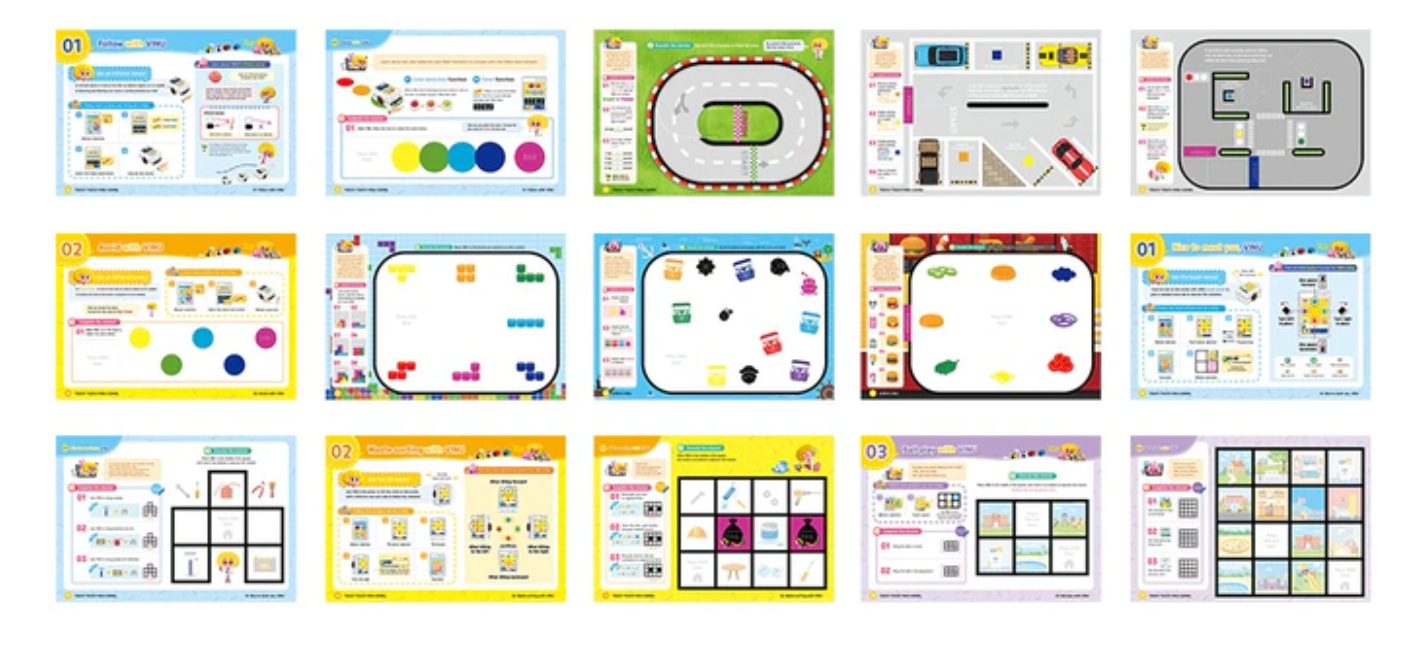 Textbook & Activity Sheets
In addition to all of the built-in games, there are external textbooks and activity sheets to keep the learning coming beyond the 180+ games.
Unplugged + Built-in Screen
There are many unplugged coding robots on the market, but AI VINU is the only one with a built-in LCD. This helps support the sheer number of games and delivers a far more positive all-around experience.
Built-in Sensors
A robot is nothing without sensors and the AI VINU has a few of its own including a distance sensor, sound sensor and a stepping motor. These sensors allow the robot to interact with the real world.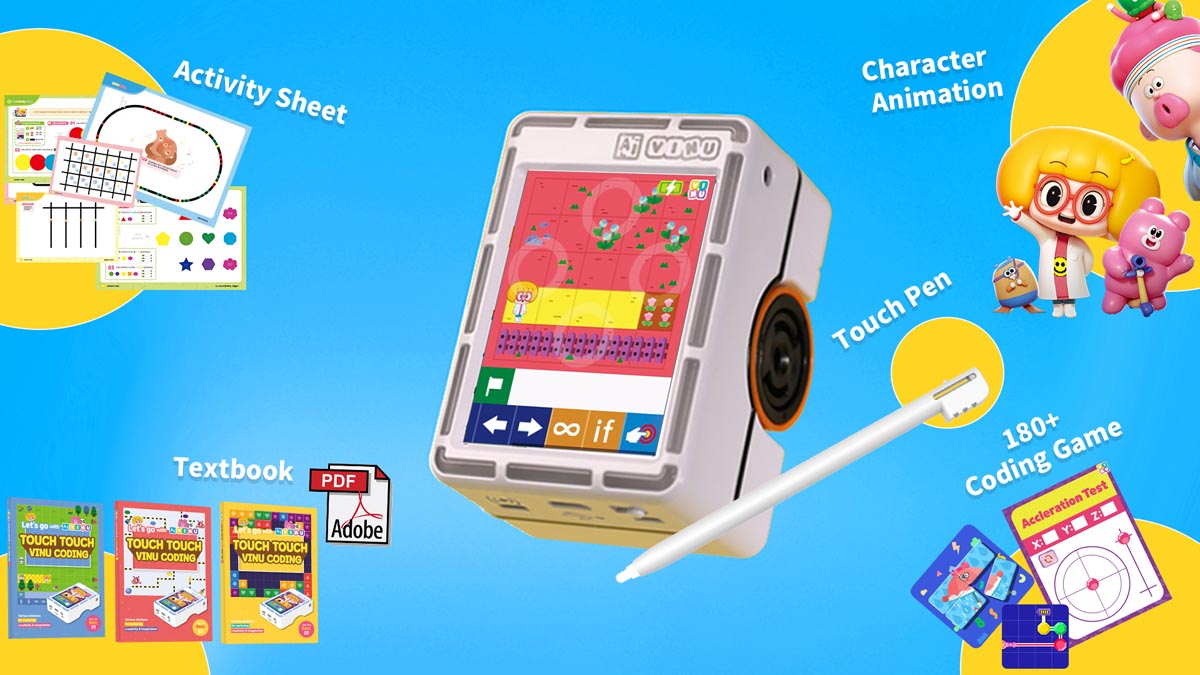 So, what can the AI VINU actually do?
Well, it can do a lot, and it can certainly do a lot more than what can be covered in this review, but we'll do our best to cover the best bits:
VINU CAR "Lattice Grid"
Put your logic skills to the test with the Lattice Grid activity. AI VINU can be programmed to follow and avoid certain cell values inputted onto a lattice sheet. This simple but fun activity gives a great insight into how robots follow instructions and the types of applications this is useful for.
VINU CAR "Magnet & Avoid"
Using the front 3 sensors, create a game where you have to lead the way for the AI Vinu through an obstacle course. Put your hand or even a paper cup in front of Vinu and it will follow your lead!
VINU CAR "Tilting Move"
Take advantage of the accelerometer and control the AI VINU by tilting the surface it is on. Draw a racecourse on a small whiteboard and you have yourself an incredibly fun and interactive game.
VINU CAR "Line Color Music"
If you're a fan of music, you'll be a fan of this. VINU has built-in sensors following a line and plays a muscle note every time it comes across a colored dot. Either make your own or use some from the activity sheets.
VINU CAR "Golf"
Who doesn't like golf? Well, usually kids, but they'll like the STEM version found in the AI VINU. Play a game of "golf" by instructing the robot to get to one of the holes in as few moves as possible.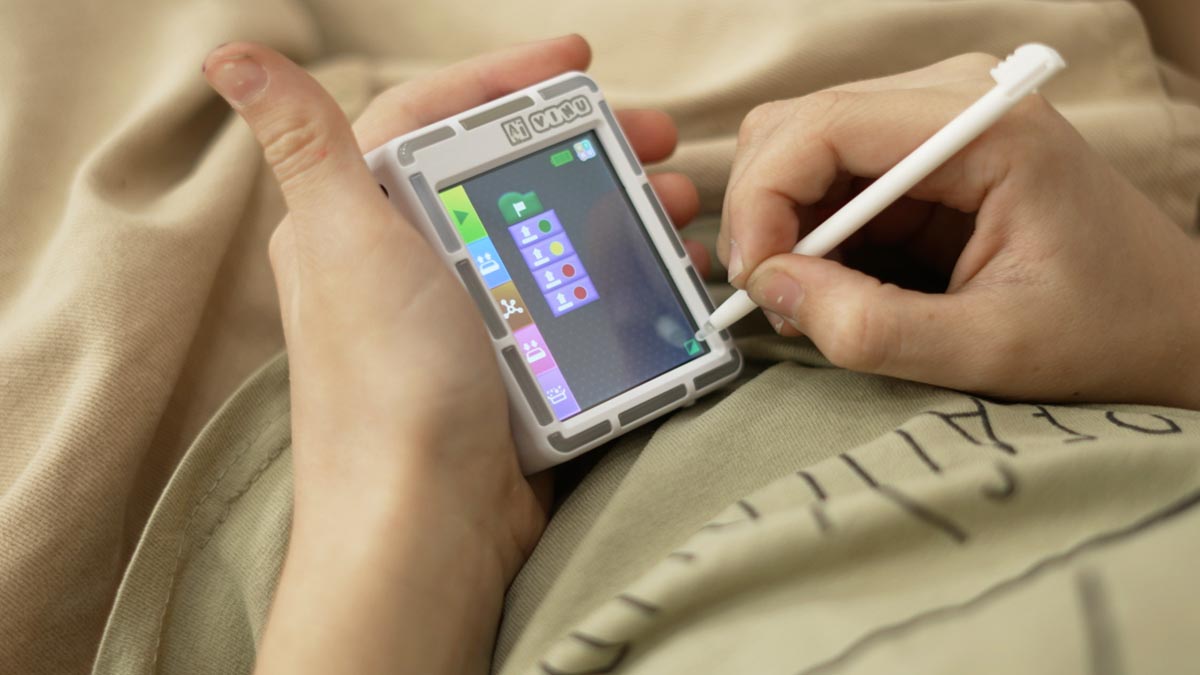 How to Use the AI VINU
The AI VINU may be able to do a LOT of different things, but that doesn't mean it has to be difficult to use! Here's how to get started quickly:
Simply press the on-button on the device to get it powered up. The button is located next to the micro-USB port.
Next, choose the mission or activity you would like to do using the touch screen and the stylus.
It's recommended to choose "free coding": when you're first getting started just to get an insight into the basics mechanics of how this little robot works.
If there is a firmware update, make sure to download the latest version to keep it up to date with the latest missions and activities.
Build & Design
Despite its small size, the AI VINU is very well put together. It doesn't squeak or creak under pressure and seems to be designed with kids in mind. Although it's not recommended to put it to the test, it feels like it would survive a fall onto a hard floor without exploding.
The screen is surprisingly easy to use with the stylus and doesn't feel too clunky, although far from what you would expect from an iPhone or similar.
Overall, the AI VINU feels durable, is made from good materials and looks the part too.
Final Thoughts
If you're in the market for a STEM education tool, you should certainly consider the AI VINU. It ticks a lot of boxes and offers a lot of functionality not found elsewhere. Yes, these types of toys/tools aren't the cheapest but with the sheer number of potential activities kids can do and the near-endless hours of entertainment it can offer, it's a pretty good bang for the buck.
So, if you're an educator or a parent interested in increasing your kid's STEM ability, take a look at the Kickstarter campaign here.