In this Logitech G Pro X Keyboard review, we're taking apart the tech brand's most customizable keyboard yet, offering individual switch-swapping for serious gamers and keyboard enthusiasts.
But is customizing your switches really as cool as it sounds? And has Logitech succeeded in simplifying a process previously reserved for hardcore keyboard aficionados?
30 Second Review: Logitech G Pro X Keyboard
Design & Build -

8.1/10

Typing Quality -

8/10

Ergonomics -

7.9/10

Total Value -

8.3/10
Summary
Keyboards that offer swappable switches are incredibly difficult to find and DIYing a regular mechanical one is a risky and difficult process. So if you're looking for the simplest hot-swappable keyboard around that also happens to be impressively well-built and gorgeously designed, then you won't find a better model than the Logitech G Pro X keyboard.
Pros
Swapping switches is incredibly easy
Great-looking design and rugged build
Minimalist RGB lighting suits the keyboard's style perfectly
GX switches perform wonderfully
Cons
Collecting all the switches will set you back a lot of cash
Key legends can't be seen without a backlight
Onboard memory only saves RGB settings
Don't have time to read through the entire review? Just click any of the links below and we'll take you right to that section.
What is the Logitech G Pro X Keyboard?
The Logitech G Pro X is pretty much identical to its predecessor – the Logitech G Pro – so you can expect the same stellar build quality, brilliant backlight, and sleek compact design. The only discernable difference between the two is the younger sibling's novel ability to allow the swapping out of the keyboard's actual switches. Bear in mind, that's SWITCHES and not KEYCAPS.
This means that, if you want, you can customize the individual switches on your keyboard to have certain keys sport Clicky switches while others have Linear or Tactile ones. Prior to the G Pro X, this level of customizability was pretty much unheard of in the mainstream, so mechanical switch fanatics will undoubtedly jump at the chance to handpick their switches as they see fit.
Switches aside, the G Pro X was marketed by Logitech as an esports peripheral, though its low-profile design and compact form factor make it just as attractive to general users and working professionals as well. Just make sure to switch off the light show, of course.
Brace yourself, however, as this keyboard is bound to set you back quite a bit of money, especially if you're planning to collect all the available switches. The device itself doesn't come cheap, but purchasing the two remaining sets of switches will nearly double the overall price.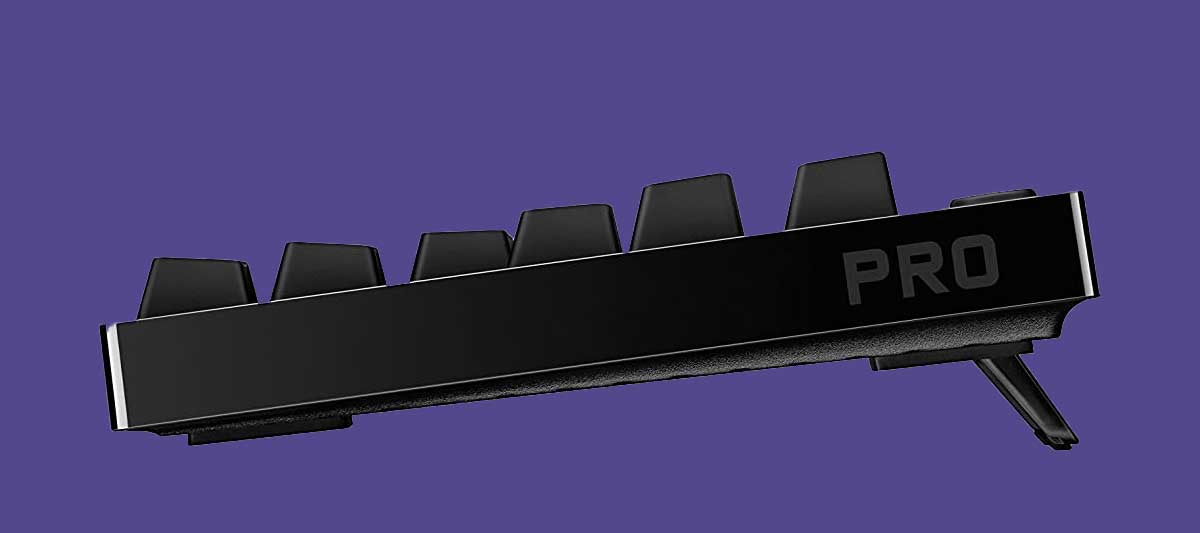 Features
Switches
When purchasing the Logitech G Pro X Keyboard, you're given a choice of three different mechanical switches: GX Blue, GX Brown, and GX Red. The GX Blues are designed to emit a more resounding click, while the GX Reds are built to be far more subtle. The GX Browns, on the other hand, offer a nice middle ground between the two.
The highlight of the keyboard is the way it easily allows the individual swapping of switches so that you can even mix and match different switch types in your layout.
Connection
It's a purely wired keyboard that connects to your computer via a 1.9-metre long braided USB cable. The cool thing is that it's detachable, making the peripheral easier to transport. You can also replace the cable with any micro USB one in case you lose or damage it.
Accessories
Aside from the keyboard itself, its braided cable, and the keycap remover, the only other thing that comes in the box is a tasteful Logitech G sticker.
Media Controls
Since the Logitech G Pro X features a compact design, its media controls are the secondary functions of the F9-F12 keys.
RGB Lighting
This keyboard boasts some of the most precise RGB lighting we've ever seen and it's fully customizable with the help of its companion software.
Software
The G Pro X makes use of Logitech's G HUB software that's user-friendly and allows for the customization of the RGB lighting and keybindings.
Specs
| | |
| --- | --- |
| Dimensions | 36.1 x 15.3 x 3.4 cm |
| Weight | 0.90 kg |
| Switches | Logitech GX Blue, GX Red, or GX Brown |
| Switch Lifespan | 70 million keystrokes |
| Media Controls | Function buttons |
| Connection Type | Wired USB |
| RGB Lighting | Yes |
| Number of Keys | 87 |
| Software | Logitech G HUB |
| Accessories | None |

Aesthetics
The G Pro X bears a stark resemblance to some of Logitech's older models such as the G213 and the G613, featuring an all-black matte finish and a distinctly minimalist design. Unlike some of its edgier rivals like the Corsair K95 RGB Platinum and the HyperX Alloy Elite 2, this peripheral is a lot more lowkey as gaming keyboards go and can easily pass as a workstation keyboard provided you turn off the RGB.
Speaking of RGB, the G Pro X's is absolutely brilliant and features individually lit keys with minimal bleeding, meaning you'll only see the letters light up on the keyboard. It may not sport an underglow like the K95 RGB Platinum, but a more low-profile style suits this model better anyways. On the negative side, the legends on the keycaps are really hard to see unless the RGB is switched on.
What's it like to use?
With the Logitech G Pro X being a wired keyboard, setting it up requires little more than just plugging the device into your machine and letting your OS do its thing. It works pretty well right out the box, but if you want to access the customization options you'll want to install the Logitech companion software which is pleasantly intuitive and features a straightforward user interface.
You'll be able to program all the function keys and even utilize the G-Shift option that gives you a second set of programmable controls. You can also tweak the keyboard's RGB lighting which, unfortunately, is the only setting that's saved on the device's onboard memory. Saving the other options requires you to create an account and upload the settings via Cloud Sync for use on another machine.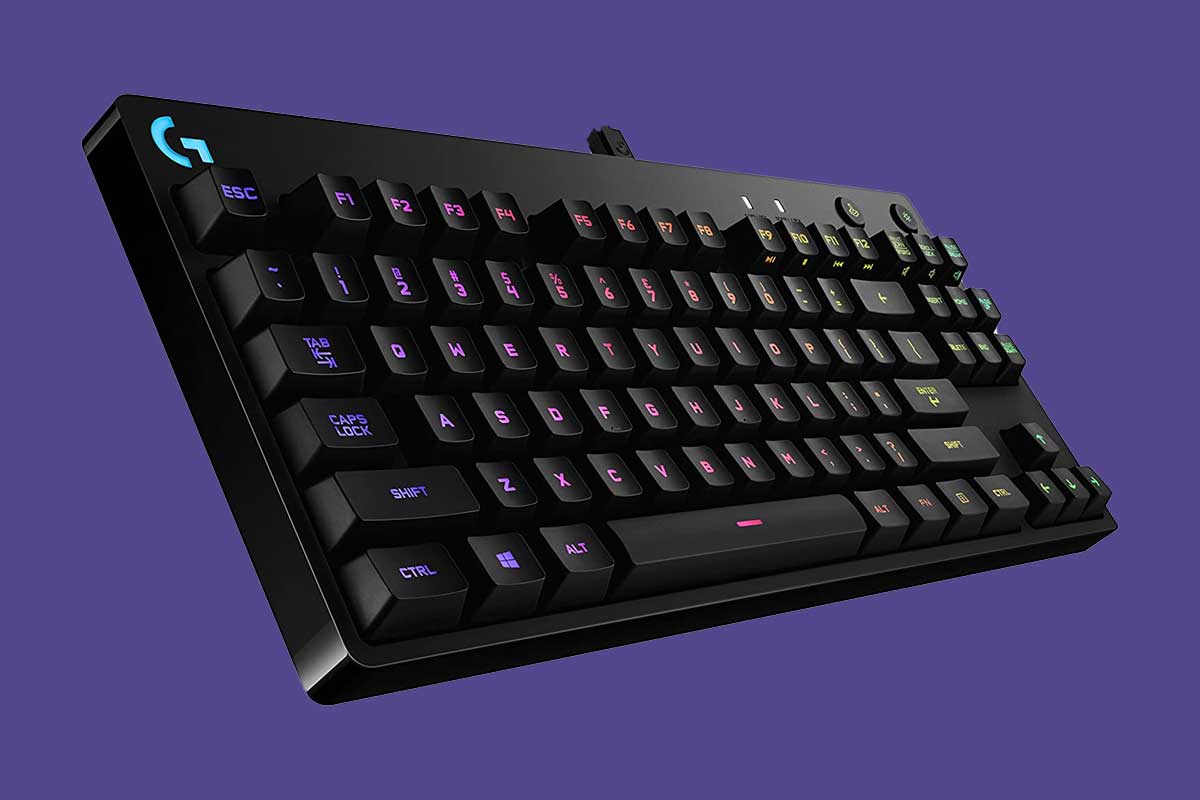 The GX switches rival the industry-standard Cherry MX variants and boast an even longer lifespan for some added value. The keyboard's selling point is its replaceable switches which, to Logitech's credit, is exceedingly easy to swap out. The best part is that the board is also compatible with MX switches in case none of the GX ones really hit that sweet spot.
It can be painstakingly tedious pulling out every single switch to replace it with another variant, though the option to do so remains a fantastic idea and one keyboard fanatics are sure to adore. Personally, I enjoy GX Brown switches for my gaming controls while letting the rest of the keyboard rock GX Blues.
Logitech's G Pro X is built using high-quality reinforced plastic that feels weighty and sturdy, so it should have no trouble withstanding some intense button mashing. The keycaps also latch on nice and tight and never feel rickety which is always good.
Final Thoughts
If you try and look up all the mechanical keyboards that feature easily swappable switches, you'll find that the G Pro X tops pretty much every list. While that alone gives keyboard enthusiasts and esports pros a good enough reason to pick up the peripheral, its rugged build, striking RGB lighting, and handsomely subtle design make it that much more attractive.
It's not without its flaws, however, as its base price is expensive enough as is and that's without factoring in all the extra switch kits. If you plan on rounding them all up, it's definitely going to cost you a pretty penny. But if you don't mind the steep price and have no problem with having to create an account to save your keyboard settings, then the Logitech G Pro X is the perfect hot-swapping keyboard for you.
Last update on 2021-12-14 / Affiliate links / Images from Amazon Product Advertising API