Summary
Take your homemade pizza experience to another level with Roccbox. It is a restaurant-grade pizza oven that works as well as it looks. Whether you prefer to bake with gas or wood, this is a great choice for a backyard pizza oven. Aside from pizza, you can also use it to bake, roast, sear, grill, and even barbecue any type of food in a fraction of your usual cooking time.
Pros
High max temperature
Sleek design
Exceptional heat retention
Pizza ovens may not be considered standard home equipment, but more and more people are including them in their kitchens and entertaining areas – and for good reason. They take your homemade pizza making to another level, giving you that cheesy, chewy, and crispy pizza you have always wanted in the shortest time possible. So while you can always use a regular oven or even a toaster oven, a pizza oven is still the best way to get that beautiful homemade pizza. And if you are looking for one, then consider the Roccbox Pizza Oven.
Roccbox is a highly successful crowdfunding project, which raised over US$1,234,000 on Indiegogo in 2016. Fast forward to today, this oven has made its way among the leading portable pizza ovens in the market. It is a restaurant-grade portable pizza oven by Gozney, which promises the same performance as those used by chefs and restaurants. So with it, you can throw pizza parties like a professional. Great, right?
Learn more about this top portable oven with this review and find out if it's the pizza oven for you. Can't read the whole thing? Click on any of the links below to skip to that section.
Overview
Portable pizza ovens like Roccbox have slowly made it into the homes of many people. Unlike full-sized Italian brick ovens, they don't cost as much or take too much space in your home and backyard. They are also very simple with easy installations and operation. More importantly, they can too give you great pizzas and other delicious dishes. And since they are portable, you can now enjoy pizza anywhere you want.
Having Roccbox is also perfect for family bonding. You can make pizzas with your kids and get to eat them together. And since it can produce very high temperatures and retain heat well enough, you can bake pizza after pizza after pizza. You can even cook one in under 90 seconds, given the right circumstances. So if you're planning for a pizza party or catering your child's birthday party, this is definitely the machine you need.
But here's the thing, the Roccbox costs US$599 for the dual fuel and US$499 for gas only. It is way more expensive than a very similar product, the Ooni Karu 12, which sells for only US$350 and an additional US$90 if you want to bake with gas. It's also a lot pricier than many of the popular portable pizza ovens around, including the Mont Alpi MAPZ-SS and [amazon link="B08B5HZ3CN" title"Bertello Outdoor Pizza Oven". It is, however, still cheaper than the Ardore Pizza Oven by Pizza Party.
Features
Portable
The Roccbox Pizza Oven is small enough with built-in retractable legs and a detachable burner, making it easy to carry around from your backyard to the outdoors. You can use it while camping, on the beach, the forest, garden, or anywhere you want to enjoy a slice or maybe a whole pan of pizza.
950°F Max Temperature
With dense insulation, a thick stone floor, and a unique rolling flame, Roccbox can reach 950°F. The best part is, it doesn't take a long time to heat up, unlike traditional stone floor ovens. You can get the temperature up in about 20 to 30 minutes on gas and around 40 minutes on wood. Of course, this still depends on many factors, including the weather condition, ambient temperature, and how dry your fuel is.
Gas or Wood Fuelled
Whether you want to cook with gas or wood, you can do so with Roccbox. The Dual Fuel version comes with both gas and wood burners, so you can go from convenient to traditional at any time. It's easy to use and set up too. Just attach the burner of your choice to the underside of the oven's body, light it up, and it will automatically start storing and radiating heat.
Safe Touch
This is a crucial feature you should look for when choosing ovens and other metal-bodied equipment. To reduce the risks of skin burns, Roccbox has a silicone jacket that's safe to touch. So you don't have to worry about your kids or anyone burning their hands when they accidentally come in contact with the oven.
Versatile
Now, Roccbox isn't just for pizzas. With it, you can cook almost anything that your standard oven can cook – only faster. You can use it for vegetables, steak, meat, fish, and bread. This is a versatile oven where you can explore many different flavors, textures, and dishes.
Rolling Flame
The Roccbox uses Gozney's patented baffle plate technology. This sends the flame reaching for the open door, creating the perfect distance between your pizza and the flame and cooking it from the top down. Add that with the oven's stone floor, which crisps up your pizza from the base up, then you'll have an exceptional and evenly cooked masterpiece in no time.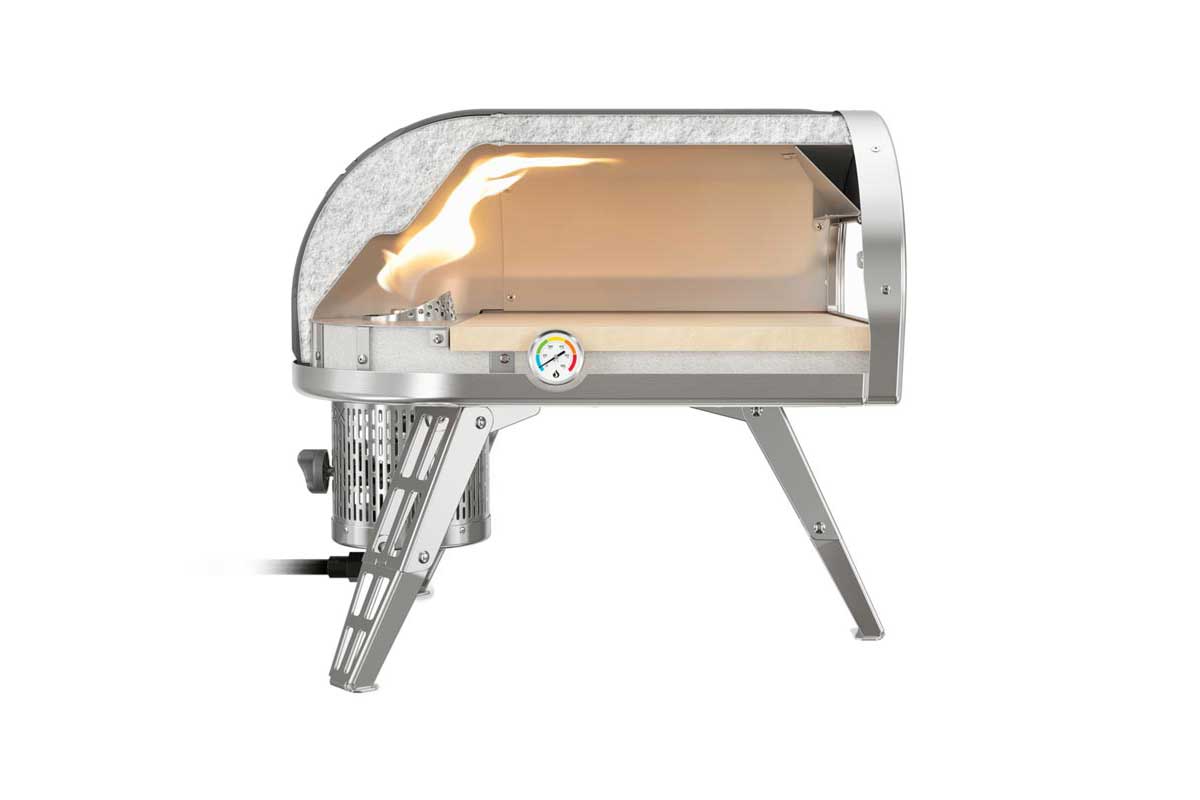 Specs
| | |
| --- | --- |
| External Dimensions | 16.3 x 21 x 18.6 inches |
| Cooking Floor Dimensions | 12.4 x 13.4 inches |
| Max Temperature | 950ºF (500ºC) |
| Weight | 44 lbs |
| Fuel Type | Gas / Wood |
| Body & Legs Material  | 304 stainless steel |
| Cooking Floor Material | Cordierite stone |
| Insulation | Calcium silicate |
| Outer Jacket | Safe-touch commercial-grade silicone |
The first thing we noticed about the Roccbox is its weight. At 44lbs, this supposedly "portable" oven is really heavy. To give you an idea, it is heavier than an SUV tire, a small sack of potatoes, or five gallons of water. It's almost twice as heavy as the Ooni Karu 12 and Mont Alpi MAPZ-SS. It is, however, still lighter and smaller than the Ooni Pro 16. It's also light enough for one person to carry.
For its size, the Roccbox can only accommodate a 12-inch pizza, which is the same as the Ooni Karu 12. If you are looking to cook bigger pizzas, then you are better off with the Ooni Pro 16. This oven can accommodate 16-inch pizzas, can work with wood or charcoal, and costs the same as Roccbox. You can even use it with gas for an additional US$100 for the burner.
In terms of max temperature, Roccbox's 950ºF is lower than Ardore's impressive 1022ºF. However, it is at par with the Ooni Karu 12 and Ooni Pro and better than the Bertello Oven, which can only reach 930ºF. And since it can come up to temp quickly, you can easily cook more than one pizza.
Having a wood fuel option is perhaps the biggest selling point of the Roccbox. If you are looking into experimenting with how to cook pizza the best way possible, then this is a great option for you. Right out the box, you can immediately try out baking with either gas or wood. There's also a professional-grade pizza peel included as well as a bottle opener – everything to get that party started.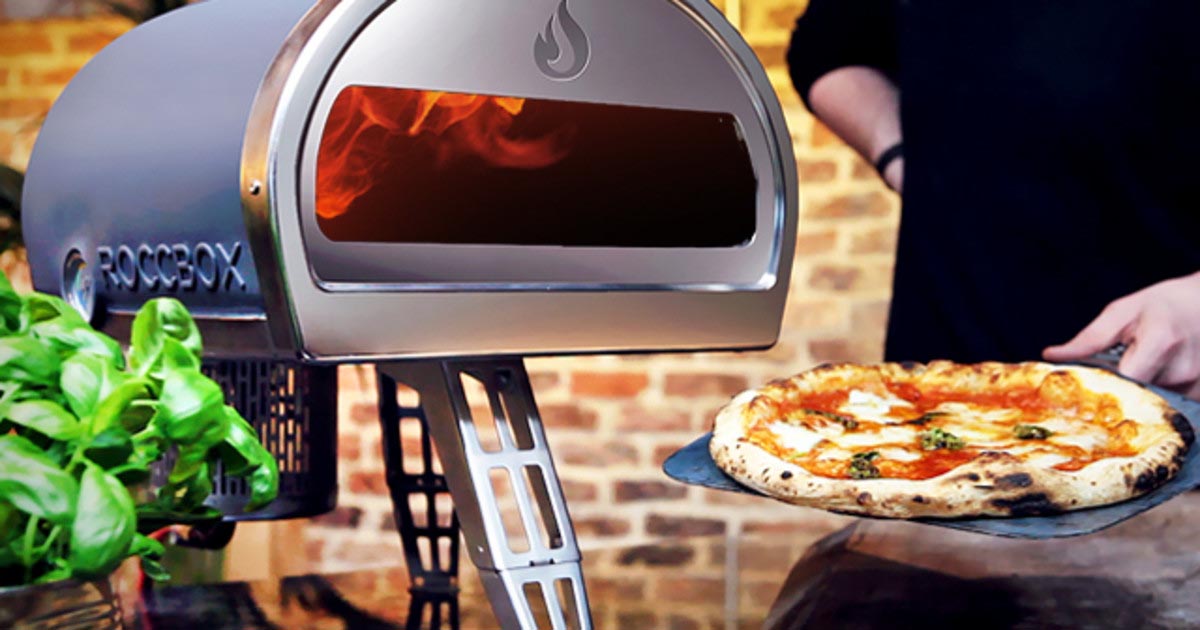 Build & Design
The biggest advantage of Roccbox over other portable pizza ovens is its overall look. Available in olive, gray, and green, this oven looks extremely well-made and sophisticated. It has an attractive, futuristic, and space-age look that makes it the perfect centerpiece for your backyard pizza party.
Now, not only does the Roccbox look good, but it's extremely durable as well. It is made from professional-grade materials and is built to last for a very, very long time.
Another thing we love about Roccbox's design is its built-in thermometer. This makes this oven more convenient, easier to monitor, and operate. Its stone baking surface is also secured to the oven's floor, so you don't have to worry about it slipping or breaking. And speaking of the stone floor, it is thick and works extremely well in maintaining the heat inside the oven. As a result, you can cook your pizza from the bottom up.
Final Thoughts
Roccbox is one of the leading portable pizza ovens around, and it's no wonder why. With its ability to reach high temperatures and retain heat exceptionally well, you don't have to wait for a long time to get your pizzas ready. You also don't have to wait several minutes to heat the stone and put your next pie. So when it comes to baking a lot of pizzas in the shortest amount possible, Roccbox is certainly a good option.
However, for its price, the Roccbox may not be the most practical choice. There are cheaper pizza ovens that are equally, if not more, portable and capable of providing you great pizzas.
Last update on 2021-12-16 / Affiliate links / Images from Amazon Product Advertising API