Lomi Quick Review
Summary
Lomi is an excellent food composter that makes composting a joy! With the press of a button, it composts almost everything used in the kitchen and looks good doing it. Good composters make a big difference in the kitchen by improving the workflow and reducing bin odours, and Lomi is certainly a good kitchen composter!
Pros
Easy to use
Small and portable
Dishwasher-safe
Works with fruits, vegetables, meats, dairy, and compostable plastics
Cons
Has limitations on some food scrap
Pela, the company behind the world's first 100% compostable phone case, has taken its dedication to eco-friendly products to another level with its newest offering: Lomi. It is a device that can turn your food waste into compost with just a single press of a button. So with it, you don't have to deal with smelly and gross food scraps at home. Pretty great, right? Well, let's learn more about this revolutionary product here.
Don't have time to read the whole review? Click on any of the links below to skip to that section:
Lomi Overview
For many, throwing food waste is one of their most dreaded chores at home. Admittedly, this includes us. The smell and the mess just make it such an inconvenient task. While keeping a traditional home composting system can help, it is cumbersome and takes a while to process. Not to mention that it requires constant maintenance.
As a better way of dealing with food waste, Pela designed Lomi. It is a machine that can turn waste into compost, which you can use for your indoor plants, garden, and green bin. This way, you'll have a natural source of nutrients, helping enrich the soil and boost your plant's growth. This can also reduce the amount of waste you are sending to the landfill by up to 50%. As a result, you can significantly lessen your carbon footprint and help the environment by reducing the amount of methane gas generated from food waste.
Price
Lomi has a retail price of US$499, which isn't exactly cheap. You also have to consider the additional cost of its carbon filters, which you have to change between 3 to 6 months with regular use.
Compared to other similar products, Lomi isn't actually that bad. The Zera Food Recycler, for instance, costs the same at US$499. Long term, however, Zera is more expensive since it will require you to replace filters and add an additive pack for every cycle. There's also the Oklin Small-Scale GG-02, which costs a hefty US$1,299.
Features
Multiple Modes
For both the Zera Food Recycler and Oklin GG-02, they have a waste reduction time of 24 hours. Meaning, it will take a day before your food waste can turn into either compost or soil enhancement. Lomi, however, offers multiple modes with different reduction times. Just pick on the cycle depending on your preferred speed and nutrient content.
You can choose from the following modes:
Express Mode: Want to get rid of your waste quickly? Select the Express Mode. Within 4 hours or more, Lomi can break down your food scrap and reduce its volume by up to 80%.
Eco Mode: Need that nutrient-rich compost for your plants or garden? Here's the best mode for you. Through the Eco Mode, you can turn your waste into treasure in more or less 20 hours.
Bioplastic Mode: Lomi is the first home composter to offer this feature. Through this mode, you can break down certified compostable plastics, which you can safely use in your garden. Even better, it will only take more or less 10 hours to do so.
Dishwasher-Safe
Have you ever cleaned a green bin or food waste bin? We have – and it's gross. But with Lomi, this isn't an issue. Its stainless steel bucket, where all the food scraps go, is surprisingly easy to clean. You can even put it in the dishwasher.
Carbon Filter
Lomi can neutralize and eliminate any bad odors produced in the composting process. This is possible due to its carbon filters with activated charcoal. When the "Change Filter" light comes on – which is, by the way, a pretty handy feature – you can easily replace the filter and use the old one as a fertilizer for your garden.
You will also like Briiv: a Plant-based air filtration device!
Specs
Dimensions

Width: 16 inches
Height: 12 inches
Diameter: 13 inches

Process

Breaks down waste
Creates compost
Decomposes bioplastics

Max Capacity
3 liters of waste
Noise Level
40dB – 50dB
Power Consumption
Less than 1kW/h on Express Mode and less on the Eco Mode
Voltage

USA and Canada: 110V
EU: 220-240V with type-C plug
Australia: 220-240V plug
Since a composter machine can run for more than 20 hours, some might be worried about the noise it will make. But with the Lomi, you won't have a problem. It produces less sound than most household appliances, so you can sleep soundly while it does its magic. It is quieter than a microwave, washing machine, and dishwasher. As a plus, Lomi is energy-efficient. It consumes approximately less than 1/5th of the energy of an EnergyStar-certified refrigerator.
But what's really different about Lomi compared to other kitchen composters is its process. It features new technology and a pending patent where, unlike others, it doesn't just dehydrate your food. It does 3 things – breaks down the food waste, create the compost, and decompose the bioplastics. As a result, it creates nutrient-rich compost, which you can give back to the earth.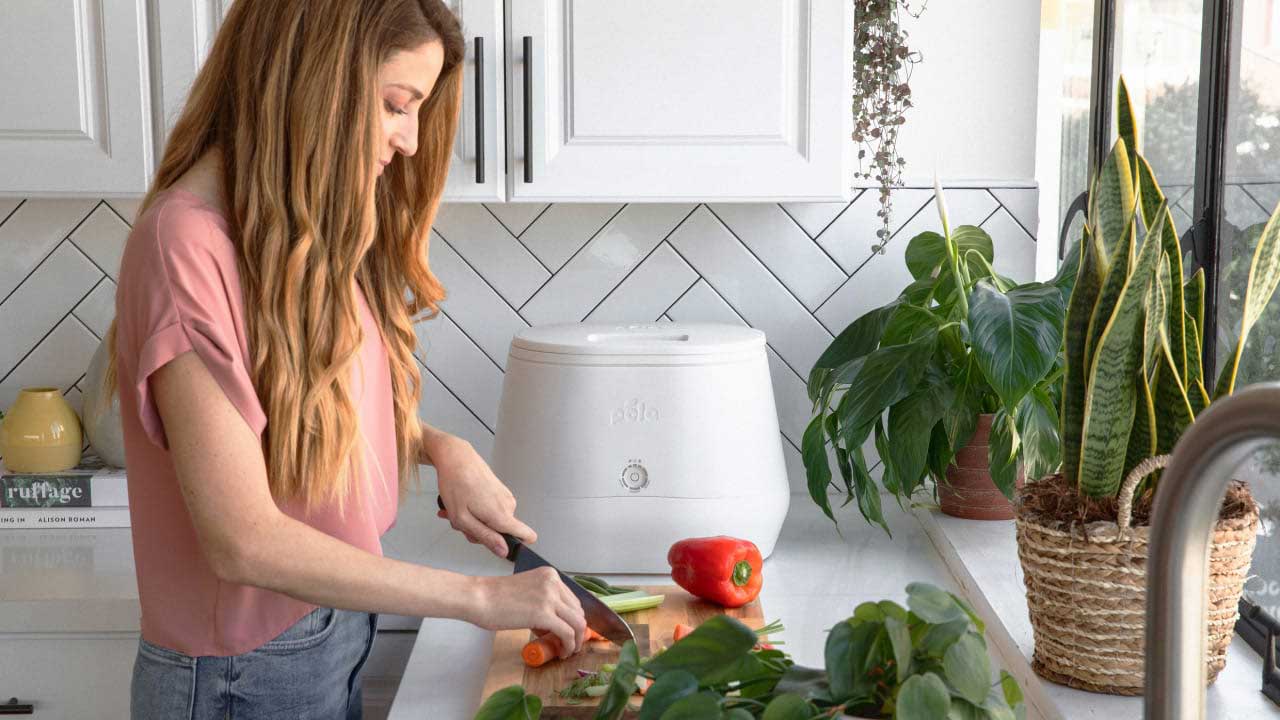 Aesthetics
Another great thing about Lomi is its design and aesthetics. Compared to other composter machines, it is smaller and better-looking. It consumes less space, similar to that of a bread maker. And with its sleek and minimalist design, it would surely go nicely on your countertop.
However, due to its small size, it won't be able to carry as much as the Zera or Oklin machines. Its max capacity is only 3L.
Conclusion
With its portability, efficiency, eco-friendliness, and speed in turning your home's food waste into compost, Lomi is undoubtedly one of the best food composter machines around. It's incredibly convenient and easy to use, all you need to do is push a button. With Lomi, there's no hassle, no mess, and no long waiting time. Plus, it looks good too.
Take note, however, that Lomi has some limits as well. For instance, you can only put in very small amounts of small bones like fish or chicken. You should also only put in small quantities of food with high sugar content. Big bones and avocado pits are a no-no too. But other than that, Lomi is a great kitchen addition to every home. With it, you can be part of the solution in reducing the food waste that ends up in the landfill every year.