iFlow is the newest home device in town that turns your traditional faucet into a touchless and automatic unit. It was launched on Kickstarter just last year and was later on made available on Indiegogo where you can buy it at a discounted price for a limited time. But before you do, here's a few things you should know about this latest kitchenware.
Buy iFlow on INDIEGOGO Now!
Support this project to save money and support innovation from the world's best inventors!
iFlow Quick Review
Summary
Keep your hands clean without ever touching the faucet's handle with iFlow. It is a convenient and eco-friendly home device that will help you prevent leaks and wasted water.  It's a little on the dear side, but you do get a good quality product for the price.
Pros
Smart display
Compatible with any type of faucet
Needs no charging
Can't read the whole review? Click on any of the links below to skip to that section.
Overview
With a traditional faucet, you use a handle or a knob to get the water flowing. You then wash your hands, apply soap, and turn it off by using the same handle. So if the handle had germs, you'd have to get in contact with it again – which kind of defeats the purpose, right? But with iFlow, this isn't an issue. It completely provides you with an automatic and hands-free experience, so you never have to worry about getting your hands dirty after washing them.
iFlow also significantly cuts your water consumption by providing you the amount of water you need. No more and no less. On top of that, it can help prevent wasted and leaking water too. Thus, making it an eco-friendly addition to your home.
In terms of price, iFlow costs almost the same as buying a cheap sensor faucet. However, it is more expensive than other motion sensor faucet adapters. With a retail price of US$89 for the basic version (K1) and US$99 for the pro version, it's a lot costlier than the Lightingson Touchless Adapter (US$35), iTouchless EZ Faucet (US$70), and Lovo Touchless Faucet Adapter (US$35).
Features
Hydraulic-Powered System
iFlow has a built-in small-scale hydro water system. Every time the device turns on, the device will charge simultaneously. Thus, you never have to charge it. There's also a backup battery inside in case you don't use it for too long.
Easy Installation
Another great feature of iFlow is its easy installation. You can quickly attach it to your existing faucet in just 3 simple steps. On top of that, it is available with different screw adapters, making it widely compatible with any type of faucet in the market.
Different Modes
iFlow has different modes, including the following:
Smart Mode: This allows you to get the water when you need it. Just hold your hands under the faucet and your iFlow will release water. Once you're done, walk away and the water will stop without a single wasted drop.
Non-Stop Mode: If you want non-stop water, this mode will keep water flowing.
Customized Mode: This mode allows you to set the water amount you want. If you love cooking, this is a great feature to have.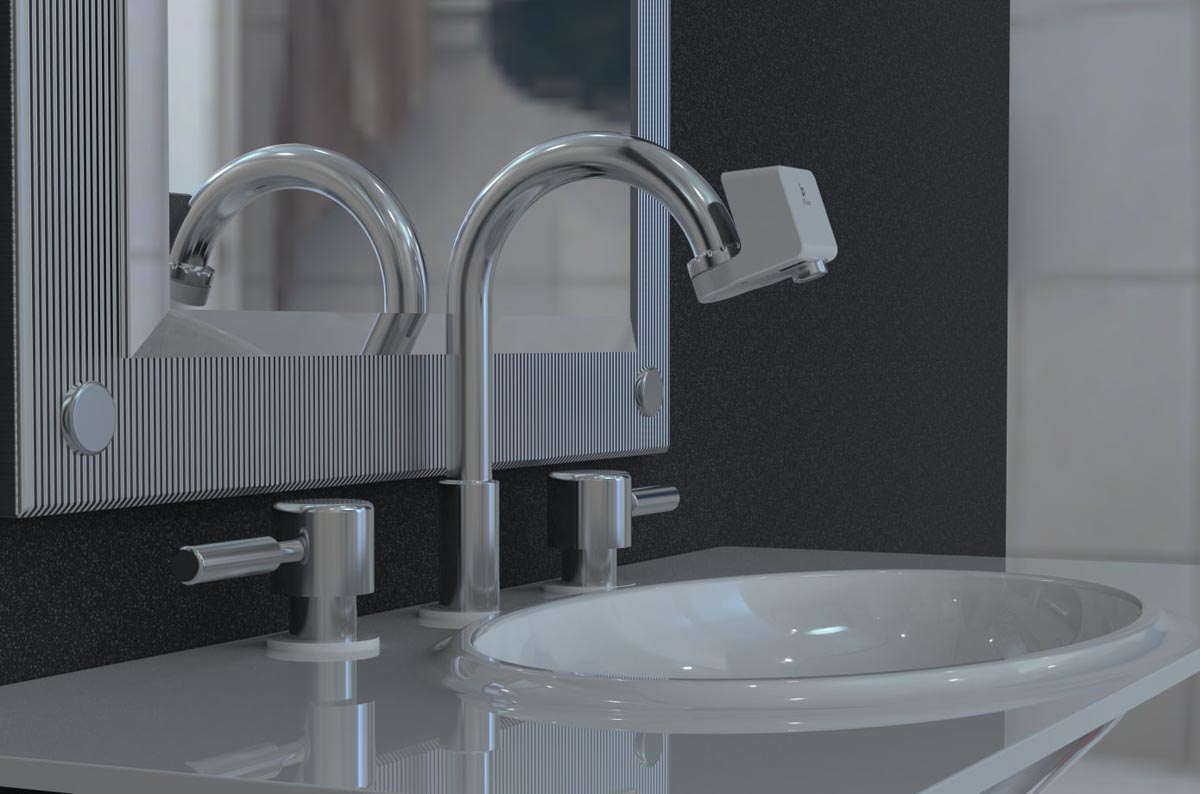 Specs
Specifications
iFlow K1
iFlow Pro
Item Weight
0.97 lbs
1.05 lbs
Dimensions
3 x 4 x 4 inches
3 x 4 x 4 inches
Battery
350 mAh Lithium-Polymer with built-in hydropower generator
500 mAh Lithium-Polymer with built-in hydropower generator
Working Temperature
32°F to 140°F (0°C to 60°C)
32°F to 140°F (0°C to 60°C)
Compatibility
Standard with 6 sizes of adjustment cap sets: M20, M22, M24, F20, F22, G1/2
Standard with 6 sizes of adjustment cap sets: M20, M22, M24, F20, F22, G1/2
Sensors

2 infrared sensors
1 temperature sensor
1 MEMS flow sensor

Flow Accuracy
N/A
0.02 gallon
Flow Range
N/A
3-20 gallons/min
Cumulative Total Usage
N/A
0-999 m3
Display
N/A
1.54" IPS touchscreen
iFlow's built-in battery is said to have a lifespan of at least 5 years. This is better than the iTouchless EZ Faucet, which is powered by four AAA batteries (not included and lasts only up to 1.5 years). The hydro-power system is also a great advantage since you don't have to worry about taking it off and charging it through USB, unlike the Lightingson Adapter.
As you can see, there are two types of iFlow: the light and the pro version. To get the whole automatic sensor faucet experience with the smart display, choose the iFlow Pro. If you don't need the smart display and water flow customization, the iFlow K1 is the better choice for you. It still has the Smart Mode and Non-Stop Mode.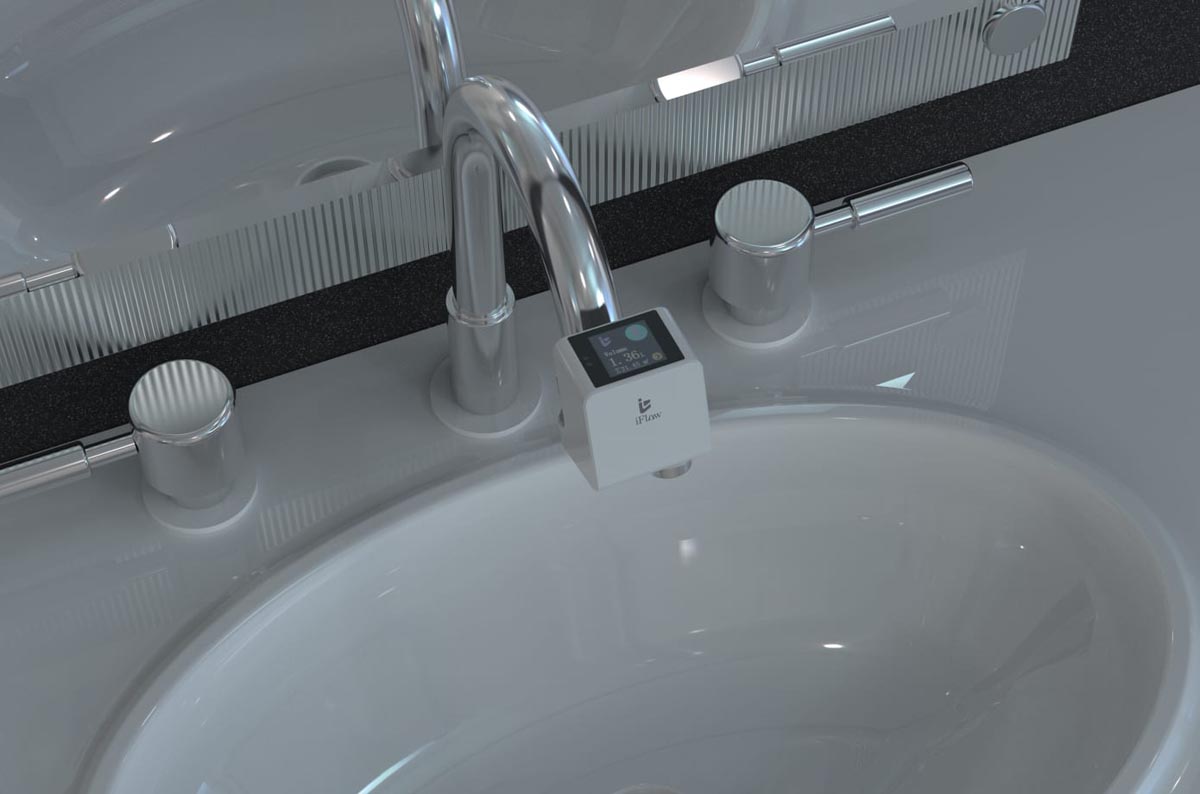 Aesthetics
In size, iFlow is bigger and bulkier than the Lovo and Lightingson Adapters. But it is quite similar to the iTouchless EZ Faucet. Now, unlike these three products, iFlow (pro version) has a smart display. It has a built-in IPS touchscreen that shows you the water temperature and total usage. It also allows you to customize the water flow.
Final Thoughts
What makes iFlow great is that it gives you the exact amount of water every single time. Nothing more and nothing less. This means you don't have to worry about wasted and leaking water. Furthermore, it makes washing more convenient and hygienic. So if you are looking for the perfect home and kitchenware upgrade, iFlow is undoubtedly one of your best options.