Marketed as the "World's First Smart Cutting Board," the ChopBox is the latest innovation for your kitchenware. It is developed by The Yes Company, a remote team with engineers and designers from all over the world. It is a highly successful campaign on two of the biggest crowdfunding platforms – Kickstarter and Indiegogo.
Editors note: Multiple readers have informed me that the company who manufactures this product is of dubious quality and potentially shady practices are occurring. Please check the comments of this post. Buyer beware,
The ChopBox was launched in September 2019, and by the end of its campaign period, the project received a staggering $2,208,214 in funding from 15,915 excited backers. So why was it such a big hit, and how is it performing today? More importantly, should you also give it a try? Let us help you decide with this ChopBox review.  In a rush and can't read the whole ChopBox cutting board review? You can click on any of the links below to skip to that section.
Overview
A chopping board is one of the most important tools in the kitchen. Every home has one, and everybody who cooks uses it. But don't you wish that it can do more than just provide you a flat surface to chop on? If you do, then you'd love the ChopBox.  Sure, there are a lot of products today that diverts from your regular cutting boards.
There's the Nutri Fit cutting board, which comes with a digital scale. There's also the Chop N' Drop Board, which comes with containers and a built-in grater. However, there's nothing like the ChopBox. It combines the functions of not 1 or 2 but 5 of your favourite kitchen gadgets.
Aside from being a chopping board, the Chopbox has a timer, scale, sanitizer, and knife sharpener. So instead of buying 5 tools individually, you can simply use the ChopBox. Not only will this make it easier for you to organize your kitchen tools, but it also provides you more room for storage.
Now, the ChopBox is pricier than most chopping blocks in the market. While it was on Kickstarter, the product had a retail price of US$199. Today, it is offered on the company's website for US$130. Even at its lower price tag, the ChopBox is way more expensive than the Nutri Fit (US$27.99) and Chop N' Drop (US$70). But considering its functions and sleek design, it's well worth it.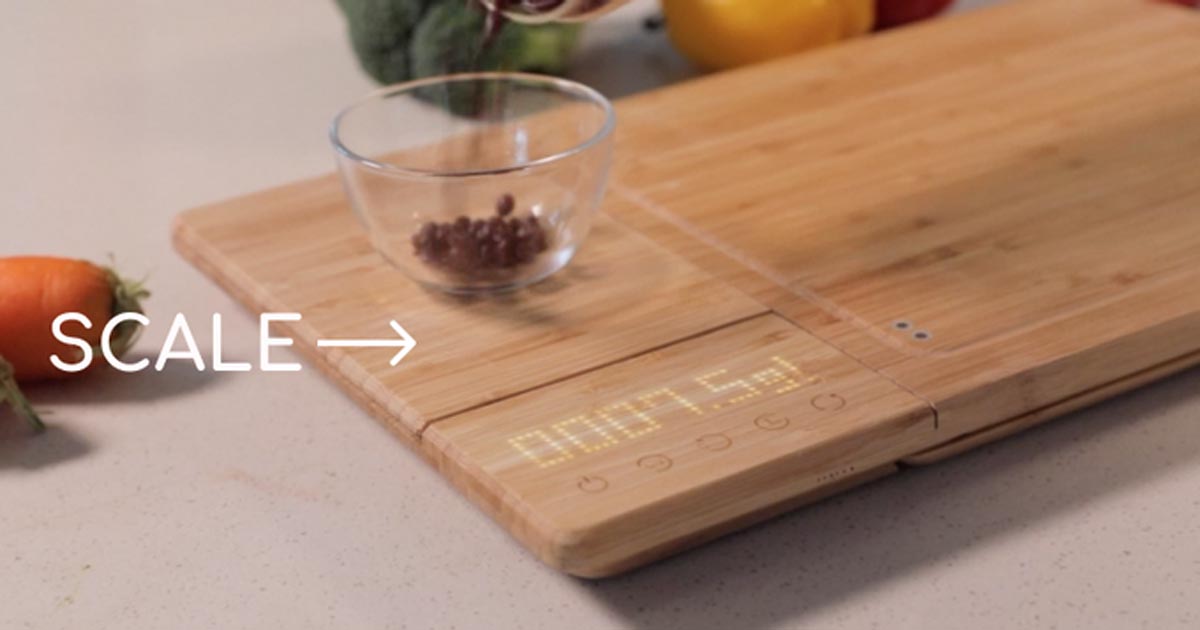 Features
For this ChopBox smart cutting board review, let us take a look at the key features that make this product stand out from its competitors. These features include the following:
UVC Sanitizing and Disinfecting
The ChopBox is equipped with a small but powerful 254nm UVC light that can help with sanitation and disinfection. According to the company, this light can kill 99.99% of germs and bacteria in just a minute. Using the smaller cutting board, you can put it on top of the main board and activate the UV light function.
There's a built-in magnet that holds the cutting surfaces in place, so you don't have to worry about them moving around. Together, they create a small gap where you can place your knives. So you can sanitize both cutting surfaces and 3 knives all at once.
9-Hour Kitchen Timer
This chopping board has a built-in timer that you can set up to 9 hours, 59 minutes, and 59 seconds. With it, you can make sure that your food will come out perfect every single time. Considering that most kitchen timers can only go up to 59 minutes, the ChopBox is a better option for big and slow-cooked meals.
Built-In Kitchen Scale
You can also use this chopping board to weigh food up to 6.6 pounds. It is perfect for measuring ingredients, and it can help you get the exact portions. You also have the option to switch between grams, kilograms, ounces, or pounds. Furthermore, this built-in scale features a tare function, allowing you to zero out the scale and accurately weigh contents even with a bowl or other container.
Knife Sharpener
Instead of getting your small knife sharpener, you can just use ChopBox to make your knives sharper. There are two different knife sharpeners built on the right side of this cutting board. One is a diamond stone sharpener, and the other is made with a ceramic stone. And when they turn dull, you can easily replace them. A replacement knife sharpener costs $5, based on the product's Kickstarter campaign.
Dual Chopping Board
With the ChopBox, you have access to two cutting surfaces. Thus, it can double up your space and help you avoid cross-contamination. You can cut meat on the main surface and have seafood on the other. The smaller cutting board can also be used for food scraps or an area for your cut food. Furthermore, you can replace the main cutting surface for an additional $30.
Specs
Here's our ChopBox cutting board review on the technical specs based on the product's Kickstarter campaign.
| | |
| --- | --- |
| UV Wave Length | 254nm UVC Light |
| UVC Light Life | 8000h |
| Timer Units | Hour, minutes, seconds |
| Maximum Time | 9 hours, 59 minutes, 59 seconds |
| Weight Type | Grams, ounces |
| Power Source | Li-ion rechargeable battery (3000mAh) |
| Charging Connector | Micro-USB |
| Material | Natural bamboo |
| Power Consumption  | 3W |
| Input Voltage | 5V 1A |
| Output Voltage | 3.3-4.2V 900mA |
| Dimensions | 17.9" x 11" x 1.2" |
| Net Weight | 6 pounds |
The ChopBox features a large battery inside with a 3000mAh capacity. This is pretty great since a single hour of charging can last you up to 30 days of regular daily use. Also, since it is made of bamboo, it is naturally durable and requires low maintenance.
On top of that, this board is rated IPX7, making it fully waterproof and able to withstand water of up to 3 feet deep. But you can't put it in the dishwasher as it tends to break the board over time. Furthermore, we like that you can charge the ChopBox through a simple USB-C cable. It's common, and you probably already have a lot of those lying around.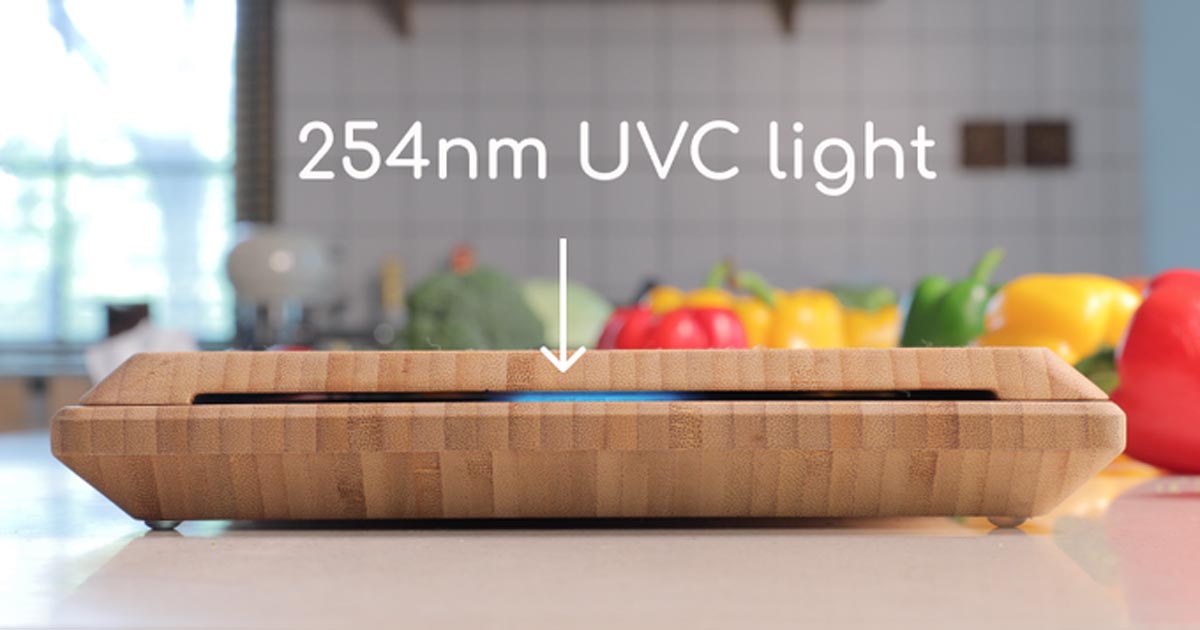 Aesthetics
In terms of aesthetics, the ChopBox is clean and solid. At first glance, it looks just like your regular bamboo cutting board. However, upon closer look, the seamless buttons for the scale and timer add a touch of modernity.
The knife sharpener also doesn't take too much attention. Furthermore, there's a groove on the larger cutting surface's surroundings, helping prevent any juices from falling off onto your counter or floor. Overall, this is a good-looking board that will fit well in your kitchen.
What's It Like to Use?
Now, here's where our ChopBox review takes a turn. The truth is, there's not a lot of people who have tried the product. In fact, there are still thousands of backers who haven't received their rewards and perks due to problems with manufacturers and "complicated production process."
When you check out the comments section on both Kickstarter and Indiegogo, you'll find people wondering when and if they will ever see their smart cutting board. Some of them are understanding, many are mad, and some already lost hope that they will receive what they paid for.
As of writing, the company is still at its second batch. Meaning, most of the 15,915 backers have been waiting for more than a year. But if you've been participating in crowdfunding before, you know that delayed deliveries are not new.
Also, not all successful campaigns that received more than their target goal of funding can perform or function as promised. Just take a look at the UsBidi Charger, the Bagel Tape Measure, and the AMPY Move Charger. So what does this mean? Since most of its backers are yet to use the product, there's no saying how good it is today.
But if you are willing to try it out and wait too, the ChopBox is available at The Yes Company website. That said, we find it weird that the company is selling its product on other platforms without fulfilling their duties to their backers. Because to us, it seems that they are already having a hard time meeting demands as it is.
Conclusion
Our ChopBox review is mostly positive. From the features, specs, and design, everything seems to work. The concept is great, and the product itself can be remarkable – that is, if it works and if you ever get the chance to try it out. Overall, this can be an essential tool for every kitchen. But due to its issues in manufacturing, you might want to look for something else for now.
ChopBox Review Box
ChopBox Review
Design & Build

Features

Total Value
Summary
In terms of design, aesthetics, and functionality, the ChopBox is very promising. By combining 5 gadgets into one, you can save space and organize your kitchen better. You can also save time trying to look for the tools you need.
Pros
✓ Multiple uses
✓ Promotes sanitation
✓ Replaceable parts
Cons
✗ Delayed shipments
✗ Problems in production